Welcome to Chemical and Biochemical Engineering at the University of Iowa. 
Our mission is to serve Iowa, the nation and the world by graduating talented and well-rounded chemical and biochemical engineers possessing the tools and capabilities to become technology and business leaders, and through excellence in research and scholarship that advances sustainable technologies.
Learn about the amazing things chemical engineers do in this American Institute of Chemical Engineers (AIChE) video. As a chemical engineering student at the University of Iowa, you will become a member of the AIChE organization.
Graduation Requirements
The requirements for receiving a B.S.E. degree in Chemical Engineering are the following:
Successfully complete the required courses and an accepted Elective Focus Area
Maintain a GPA of 2.0
Complete an accepted enriching activity
Complete 128 semester hours of course work (129 semester hours for the Pre-medicine Elective Focus Area)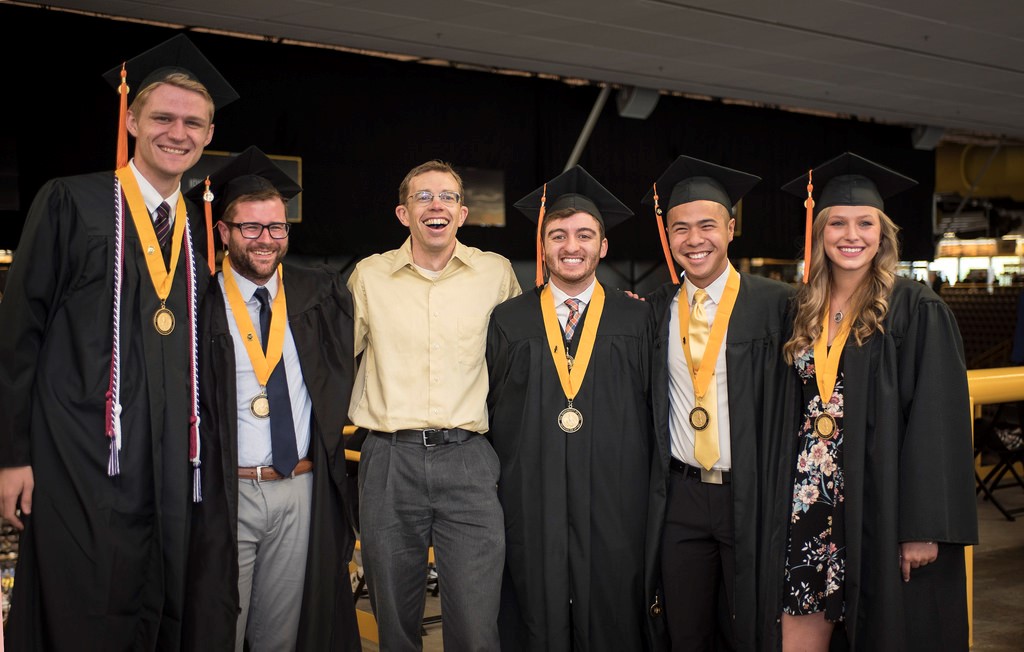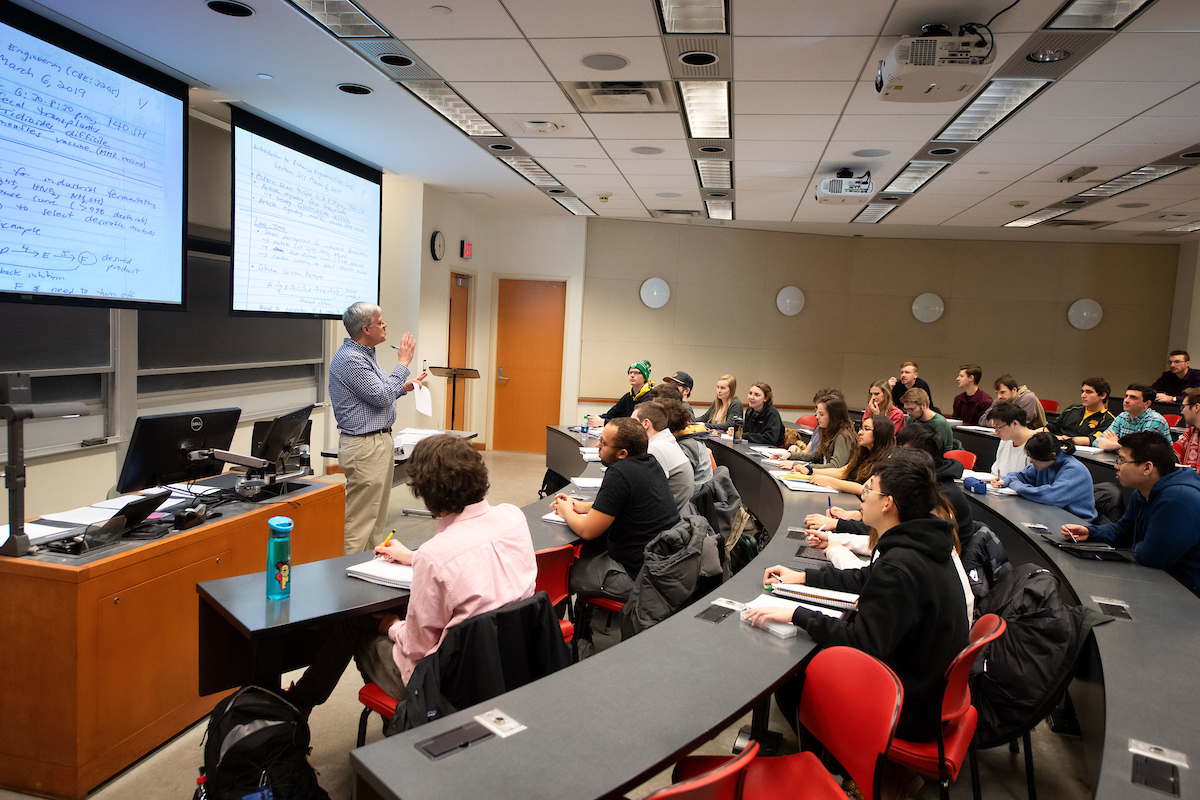 Curriculum
The undergraduate program requires 128 semester hours of course work for graduation (129 semester hours for the Pre-med Elective Focus Area). These courses are in the areas of mathematics, chemistry, general engineering, chemical engineering, and the general education component (GEC). Two semesters of calculus and one semester each of differential equations, matrix algebra, and probability and statistics satisfy the mathematics requirement. General and organic chemistry courses are required, with a lecture and lab portion for each area. In addition, an advanced chemical science sequence, including lecture and lab courses, consistent with the student's Elective Focus Area, is also required.
The general engineering courses include statics, electrical circuits, thermodynamics, materials science, and computational methods. The chemical engineering courses are taken during the sophomore, junior and senior years. Chemical kinetics, thermodynamics, momentum transport, heat and mass transfer, economics, process control, design, and safety are covered in these classes. Elective Focus Areas give the student an opportunity to explore an area of personal interest.
Four Year Plan Sample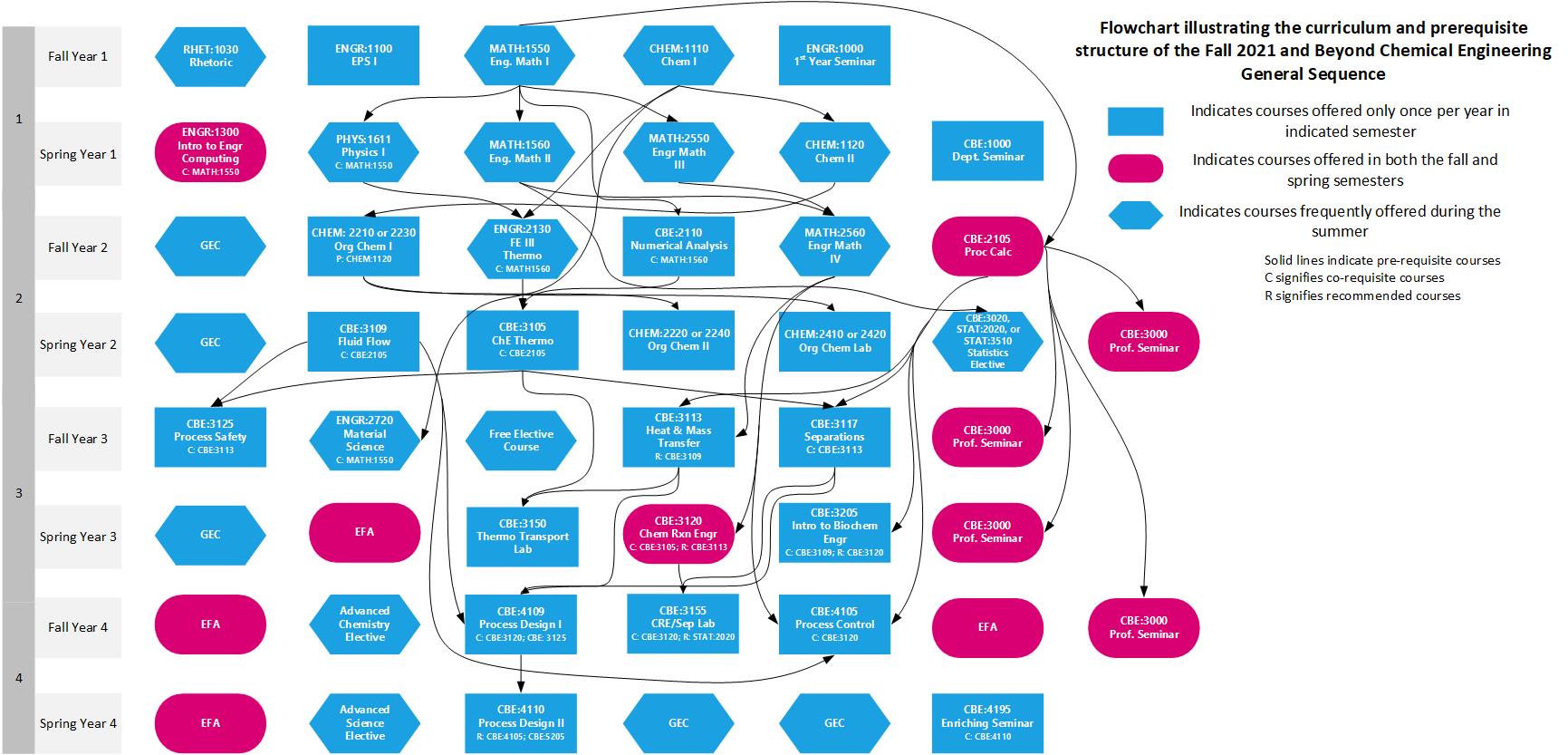 Focus Areas
The inclusion of Focus Areas (FAs) in the Chemical Engineering curriculum provides you with the opportunity to gain depth of knowledge in your chosen career path in addition to the strong fundamental grounding in the scientific, engineering, and chemical engineering principles provided by the common curriculum.  
Required Enriching Activities
Chemical engineers in the workplace inevitably work in multidisciplinary teams, and are frequently working on projects that impact society both locally and globally. Therefore, our program will provide enriching activities to enable each student to develop effective multidisciplinary team skills and to develop an understanding of the impact of chemical engineering practice on both the micro and macro scales. All Chemical Engineering students will complete at least one of the following enriching activities as a requirement to receive a BSE degree:
Three semester hour equivalent of an approved research experience
Cooperative education experience
Internship experience
Study abroad
Entrepreneurial program (i.e., receive the corresponding certificate)
Other approved multidisciplinary experience