Cathy Koebrick, MA, SPHR, SHRM-CP, CCP
Director of Human Resources
Cathy joined the College in 2019, having previously served as the HR Director for the University's Facilities Management organization since 2011. She leads all HR initiatives for the College, providing strategic HR leadership, as well as managing day-to-day HR operations. Cathy is also the primary HR support for the University of Iowa Technology Institute (ITI), the National Advanced Driving Simulator (NADS), the Center for Bioinformatics and Computational Biology (CBCB), and the Engineering Technology Centers (ETC). Cathy reports to both the College of Engineering Dean and the University's Chief Human Resources Officer.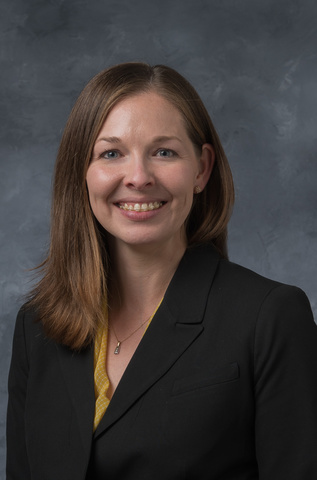 Katie Voss, SHRM-CP
HR Generalist
Katie came to the College in 2019 from the Office of the Executive Vice President & Provost where she had served in Human Resources roles since 2015. Prior to that, Katie worked in the Office of Admissions, as well as the Mathematics department in the College of Liberal Arts & Sciences.  Katie provides HR services to Engineering Administration (Dean's office and Engineering Student Success Team), as well as the six academic departments:  Electrical & Computer Engineering (ECE), Industrial Engineering (IE), and Mechanical Engineering (ME), Civil & Environmental Engineering (CEE), Biomedical Engineering (BME), and Chemical & Biochemical Engineering (CBE). Katie is also the primary HR support for IIHR—Hydroscience & Engineering, including the Iowa Flood Center (IFC) and Iowa Geological Survey (IGS).  
Performance Evaluations
All staff receive performance evaluations at least annually. These annual reviews follow a calendar year compliance period (January 1 - December 31) and are conducted in the fall. 
Performance evaluations are located on UI Self Service, My Career, under Career & Performance -> Performance Review.  The staff member starts the process by launching a performance review form.  The staff member enters his/her self evaluation comments before forwarding the form to the supervisor.
Process Steps
Employee creates review in Performance Review tool (accessed in Self Service). 
Employee completes review form and routes electronically to supervisor via Performance Review tool.
Supervisor completes their part of the review form.
Supervisor conducts review session with employee.
Supervisor electronically routes review form to employee for acknowledgement. (This can be done prior to or following the review session, based on supervisor preference.)
Employee electronically signs review, adding optional comments.
Review is automatically added to ePersonnel and rating is recorded in HR system.
Quick Reference Guide for the Performance Review Tool
Preparing for your Performance Review
The following presentation provides best practices for staff as they participate in the performance review process.
Best Practices for Preparing Your Own Performance Review PDF
Performance Rating
The following five-point scale is used to provide the overall performance rating.  The rating definitions are available here.
Outstanding
Exceeds Expectations
Successfully Meets Expectations
Needs Improvement
Unsatisfactory
Please contact your HR Generalist if you have any questions or need assistance as you complete the performance evaluation process.  We are happy to help!
Supervising Students
Supervising undergraduate students provides a unique opportunity to positively influence our students' career development. Undergraduate students who are in roles as office assistants, tutors, peer ambassadors, designers, and camp mentors, among others, may not always appreciate how their work informs their degrees and future occupations, but research shows that these jobs influence their professional careers after college. Adding students to your staff is a great way to get work done efficiently and to advance projects and initiatives that regular employees don't have the capacity to take on. 
Student employees may have unique needs in the areas of work schedules, training and development, and engagement. Fortunately, the university has many resources to guide you in these areas, and Engineering Human Resources is here to help you apply them to unique situations here in the College.
The Office of Student Financial Aid: The Student Employment website offers a comprehensive guide for employers both on and off-campus. Find information on policies related to student employment, such as work-study and limitations on weekly hours, how-to's for posting jobs and hiring, as well as processes for hiring in the HR transaction system and making salary adjustments and raises. 
Pomerantz Career Center: The Pomerantz website offers comprehensive resources for recruiting students. You will find HireAHawk on this site, which is the University of Iowa's primary online recruiting system for hiring students. You can also refer your students to the Pomerantz website for a variety of leadership and professional development activities that could enhance their educational experience. Pomerantz houses the Student Employment Programs office, led by Josh Frahm, Associate Director. 
UI STEP: UI STEP is a multi-faceted, high impact developmental experience designed to inspire and challenge UI students to find careers that reflect their personal values. Delivered through a for-credit course or individual workshops, this program will equip students to navigate the transition from college student to career professional with confidence. UI STEP also aims to develop our student workforce by targeting professional development opportunities within their student jobs now and into the future. 
Supervising Today's Students Series: STS is a certificate program made available through a partnership between UI Learning and Development, Pomerantz Career Center, and the UI STEP program. The training sessions are geared toward faculty and staff who hire and supervise undergraduate students. Courses cover the student employment life cycle starting from recruitment, and provide practical tools for successfully engaging and leading student employees.
Sample Offer Letters
                          Templates for offer letters are available from CoE HR or your department administrator.
Please contact Engineering Human Resources if you have questions or would like to discuss any needs related to student employment within the College of Engineering.  We are happy to support both our student employees and their supervisors.
Engineering Hiring Requests
To request to hire for a staff or postdoctoral scholar position (whether a newly created position or a replacement), an Engineering Hiring Request Form must be submitted to the Dean's Office. The Dean's Office will provide a response within 1-2 weeks. If the position is approved, the hiring supervisor will then work with the HR Generalist to develop a recruitment plan.

Effective with the start of FY22, this process is required college-wide, regardless of department or funding source. Please note this process applies to positions for which a search will be conducted as well as those for which a search waiver is being requested
Events
Sunday, May 15, 2022 12:00pm
Doors will open one hour prior to ceremony start. Please check back for additional ceremony details.
Sunday, December 18, 2022 12:00pm
Date and Time and subject to change; the venue and location will be published the session prior. Doors open one hour prior to the start of the ceremony.
View more events