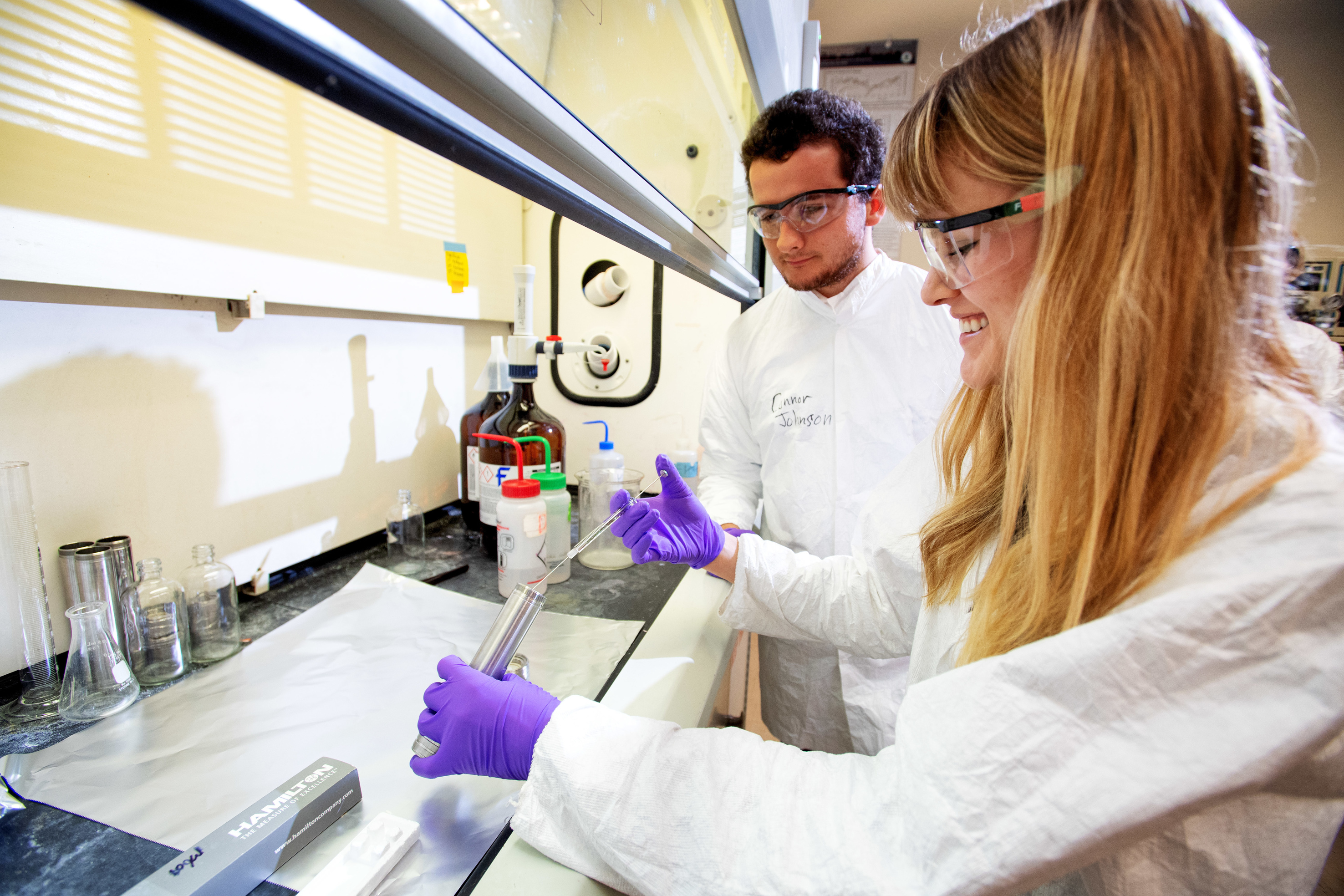 CEE is the only Department within the College of Engineering with 2 National Academy of Engineering members Schnoor and Krajewski, among its ranks.
Our faculty are leaders and affiliates engaged in research at centers and institutes across campus.
Research Video Highlights
Research Centers Affiliated with CEE
IIHR—Hydroscience & Engineering is a world-renowned center for education, research, and public service focusing on hydraulic engineering and fluid mechanics. Based in the C. Maxwell Stanley Hydraulics Laboratory, a five-story red brick building on the banks of the Iowa River, IIHR is a unit of the University of Iowa's College of Engineering. At IIHR, students, faculty members, and research engineers work together to understand and manage one of the world's greatest resources—water. Students from around the world benefit from IIHR's comprehensive multidisciplinary approach, which includes basic fluid mechanics, laboratory experimentation, and computational approaches.
The IFC is engaged in flood projects in several Iowa communities and employs several graduate and undergraduate students participating in flood-related research. The IFC strives to develop hydrologic models for physically-based flood frequency estimation and real-time forecasting of floods, including hydraulic models of flood plain inundation mapping; to establish community-based programs to improve flood monitoring and prediction along Iowa's major waterways and to support ongoing flood research; to share resources and expertise of the Iowa Flood Center; to assist in the development of a workforce in the state knowledgeable regarding flood research, prediction, and mitigation strategies; to conduct the activities required by this chapter in cooperation with various state and federal agencies.
Founded in 1981 as the Center for Computer-Aided Design (CCAD) at The University of Iowa . In 2019, the Iowa Board of Regents approved renaming CCAD as ITI in recognition of the significant growth in the team and labs and the expansion of research focus well beyond computer-aided design. With over 250 scientists, faculty members, graduate and undergraduate students, the ITI focuses on seven mission areas: Aerospace Technology, Environment and Energy, Biotechnology, Systems and Sensors, Human Modeling and Simulation, Advanced Manufacturing and Materials, and Vehicle Safety and Automated Driving. Its four centers are DSRI (Driving Safety Research Institute), OPL (Operator Performance Laboratory), VSR (Virtual Soldier Research program), and AER Lab (Atmospheric and Environmental Research Lab). ITI has a number of strategic partnerships with government and corporate entities, which help fund and support their research and technology development. Partners include the US Army, Air Force, Navy, Marine Corps, and companies such as Ford, General Motors, Chrysler, Collins Aerospace, John Deere, Caterpillar, NASA, and many others. With 25 laboratories and research centers, ITI offers our partners and clients with a significant value add to R&D efforts.
The Superfund research program at The University of Iowa (ISRP) is a joint endeavor involving basic, mechanistic and applied projects in biomedical and non-biomedical research areas. The program's overall theme is the consequences of atmospheric sources and exposures to semi-volatile Polychlorinated Biphenyls (PCBs), and it deals with volatilization, transport and exposure of lower halogenated PCBs, especially those PCBs that are associated with contaminated waters, former industrial sites, other atmospheric sources, and the consequences of exposure to them. The ISRP brings together 15 scientists representing four colleges in Iowa, Illinois and Kentucky. Working together, they measure sources, transport and environmental exposure of PCBs; their distribution, metabolism and toxicity in animals and humans; and novel methods of phytoremediation.
The University of Iowa Center for Health Effects of Environmental Contamination (CHEEC) is a multidisciplinary environmental health research center dedicated to supporting and conducting research to identify, measure and prevent adverse health outcomes related to exposure to environmental toxins. CHEEC is comprised of faculty and researchers located in the University of Iowa Colleges of Public Health, Engineering, and Liberal Arts and Sciences, and State Hygienic Laboratory.
For more than 20 years, the Center for Biocatalysis and Bioprocessing (CBB) has been combining first-class scientific faculty with cutting-edge facilities to reshape and define new technologies for chemical, pharmaceutical, nutritional and agrochemical industries. Located at the University of Iowa Research Park, the CBB consists of a growing number of more than 50 faculty members and more than 300 researchers, including graduate and undergraduate students, postdoctoral scientists, technicians, and visiting faculty and industrial scientists. Its faculty members come from eight different departments, and we are home to more than 20 predoctoral fellows. The principal areas of study within the CBB include biocatalyst fundamental properties, bioremediation, bioprocessing, new biocatalyst discovery, novel biocatalyst applications, biosensing technology, and reactive agent development.
Motivated by one of 14 Grand Challenges from the National Academy of Engineering -- "provide access to clean water" -- the University has established a Water Sustainability Initiative (WSI) to advance research, education, and outreach on sustainability. The WSI expands existing strength at UI in interdisciplinary research on water including its availability, quality, reuse, health impacts, and its relationship to a changing climate. Economics, policy, and law as well as the natural sciences and engineering are all engaged to solve the problems of water. The faculty alliance on water sustainability encompasses the Colleges of Liberal Arts and Sciences, Public Health, Law, Engineering, the Graduate College, and the Public Policy Center. Among the various resources already developed to advance the initiative are the Iowa Flood Center, the UI Office of Sustainability, and the undergraduate Certificate in Sustainability.
The Center for Global and Regional Environmental Research (CGRER) is a state-funded institute devoted to studying and bettering our environment. The Center promotes interdisciplinary research on the many aspects of global environmental change. Areas of focus include regional effects on natural ecosystems, environments, and resources, and effects on human health, culture, and social systems. To accomplish its missions, CGRER awards seed grants, fosters interdisciplinary courses, provides state-of-the-art research facilities, and holds seminars and symposia. Through these activities, CGRER assists Iowa's agencies, industries, politicians, and citizens as they prepare for accelerated environmental change.
The Public Policy Center (PPC) is an interdisciplinary academic research center in the Office of the Vice President for Research that investigates the most important issues affecting our daily lives. Its research is focused on Iowa and beyond. The PPC assists other researchers with their research and serve to bring the resources and expertise of the University to policy makers, and the public. Its mission is to provide policymakers and the public with information to make communities thrive in sustainable ways through academic research.