Tuesday, November 10, 2015
The Operator Performance Laboratory (OPL), a unit of the UI Center for Computer-Aided Design, partnered in September with Rockwell Collins, Inc. of Cedar Rapids, IA, to complete Contractor Test and Evaluation flights at Eglin Air Force Base, Florida, for the Common Range Integrated Instrumentation System (CRIIS).
In cooperation with the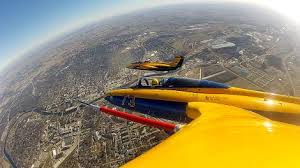 University of Iowa OPL. Throughout the testing, the high reliability of the CRIIS equipment resulted in all test flights being performed as scheduled. Only a single test flight was scrubbed due to bad weather. All the flights were conducted using production form, fit, function airborne and ground equipment.

In addition, the US Department of the Air Force, Air Force Life Cycle Management Center, publicly recognized Tom Schnell, associate professor of mechanical and industrial engineering and director of OPL, and his research team for stepping in to assist when designated military aircraft were unable to handle the validation testing because of structural issues.

"(Dr. Schnell and his team) allowed our test team to effectively and efficiently achieve critical flight objectives for both the Internal Mount and pod variant CRIIS configurations," Michele A. Hafers, senior material leader, Test and Training Division, said.  "Additionally, as the only test pilot engaged in this particular effort, his outstanding technical, leadership, and administrative skills facilitated an unprecedented flight test schedule with a much higher sortie success rate than expected."

CRIIS is a $270 million, multi-service (Air Force, Navy, and Army) Department of Defense program of national significance.  The system supports ground, air, and maritime weapon system testing for the US military and its partner nations, and serves as a major upgrade to all Department of Defense Major Range and Test Facility Bases.

For more on the validation testing, go to http://www.rockwellcollins.com/Data/News/2015_Cal_Yr/GS/FY16GSNR04-CRIIS.aspx?utm_source=rcemail&utm_medium=rcprblast&utm_campaign=FY16GSNR04-CRIIS.