Windows Remote Access Options
We have 3 offerings for Windows OS remote access. (Requires VPN Access for system not connected to Universisty Networks)
Option 1:  Windows Virtual Desktop (VDI or Virtual Desktop Infrastructure)
VDI, Virtual Desktop Infrastructure, creates a secure connection between your remote computer and a virtual Windows machine that has the Engineering lab software load. Use VDI if you want to work on class projects that require software such as MATLAB, Maple, and Mathematica. You can load the VMWare View client, which runs VDI, onto Windows and Macintosh computers as well as mobile devices.

The Linux laptops used in 2217, 3505, 3630, and 3655 SC have the Linux View client installed so that a Windows lab load is available from those computers.

For use on personal systems you have a choice.  Install the VMWare Horizon Client or access VDI via a web browser.
Option 2: Windows Remote Desktop
Students: to connect to a (virtual) Windows computer in the labs, use VDI.
Microsoft Remote Desktop allows you to connect your personal computer to a remote (your engineering office) computer. Remote Desktop can be tuned to the specific type of connection you have – cable modem, DSL, dial-up – and is moderately secure.
How to use Remote Desktop
First, connect to VPN. Please use Cisco Anyconnect. Follow this link https://its.uiowa.edu/support/article/1876 for how to install and use Cisco AnyConnect.
Once connected to VPN, search and launch Remote Desktop Connection. Type in your computer number in the form engr-d-coeXXX-YZ.iowa.uiowa.edu. Click connect. If you cannot remember your computer number, call Engineering Help Desk, 319-335-5055 for assistance.
Log in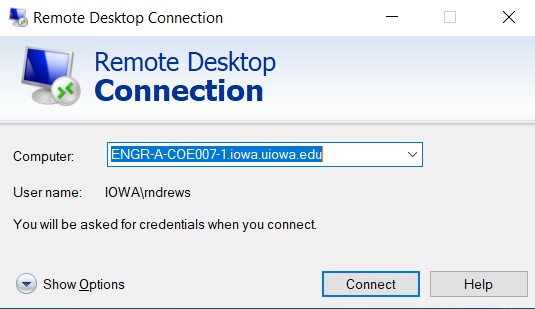 Log out
After connection is established; log in with your HawkID and password like you normally do. Once you finish working on your office computer, simply log yourself off but do not shut down your work computer.
Help
For help setting up or using Remote Desktop, or VDI, talk to the consultant at the Engineering Help Desk, 319-335-5055, 1248 SC. If you get an error message about not having rights to logon or could not connect, please call the consultant, or email to: consultant@engineering.uiowa.edu. It takes a just few minutes to grant the necessary access to your office computer.
Option 3: HP RGS
HP Remote Graphics Software (RGS) is a tool that would provide a high-performance 3D or media-rich remote desktop connection. You can use this tool to easily remote into your work computer from anywhere with a VPN connection.
Install
Installing this software will require a restart; please carefully save all your work before doing the installation. Go to ECS download page (https://mail.engineering.uiowa.edu/downloads/), which requires you to login with your HawkID and password. Select ReceiverSetup64.exe to download. Navigate to your download file and run it. Follow the prompt to install the software.
Use
After restarting your computer, go to menu search and launch HP RGS receiver. Note: you will need to connect to VPN before you can do a remote connection to your work computer. If you already have Pulse Secure installed; you can use this tool. If you do not; we recommend using Cisco AnyConnect. Please click on this link https://its.uiowa.edu/support/article/1876 to learn about how to install and use Cisco AnyConnect.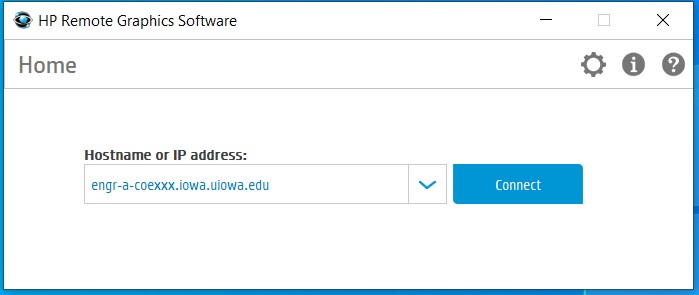 To connect to your computer type in your computer number with (.iowa.uiowa.edu) at the end. Example: engr-a-coexxxx.iowa.uiowa.edu. To ensure that the screen display will match, click on the setting gear and make changes like the setting in the picture below.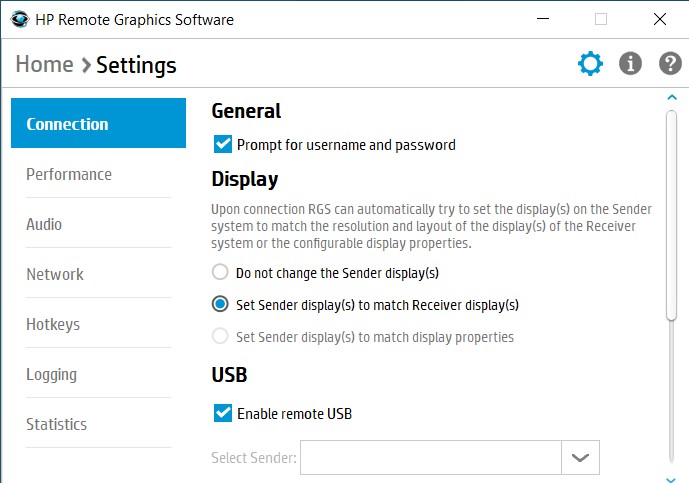 Your remote session should start. Please log off your work computer when you're done with your session.
Help
For help setting up or using HP RGS, talk to the consultant at the Engineering Help Desk, 319-335-5055, 1253 SC.
Linux Remote Access Options
We have different methods for Linux OS remote access.  (Requires VPN Access for system connected to Universisty Networks)
Option 1: FastX
Option 2: SSH Clients
A free open source ssh client easily obtained via google or this link (https://www.chiark.greenend.org.uk/~sgtatham/putty/latest.html)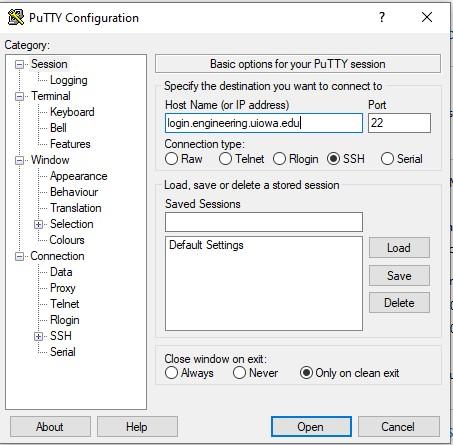 Since this is your first time connecting accept the host key.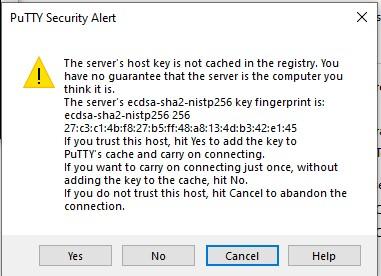 Then you should be logged in.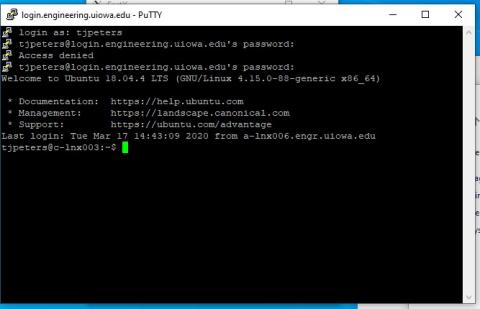 Newer versions of windows 10 have a build in ssh client accessable via the build in windows terminal. This can be found by pressing the windows key and typing command prompt and hitting enter.
The ssh syntax is ssh username@destation and then hitting enter and supplying your password.     
In this case your username will be your hawkID and your password.
For example:

For information regarding the argon-hpc-cluster please visit hpc.uiowa.edu
NOTE:  HOST KEY CHANGES
Host keys may have been updated since you last used the system.  You may experience messages like below or simply see the new key as either of the new host key messages above. (SSH and SSH on Putty)