General Lab information
| | | | |
| --- | --- | --- | --- |
|   | Windows | Linux | Multi-function Printer/Scanner/Copier |
| Elder Lab 1231 SC |   |   | 1 |
|   Elder North | 25 | 6 |   |
|   Elder South | 24 | 6 |   |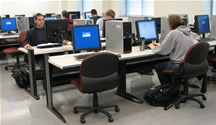 The Elder Lab (1231 SC, North and South Sections) is on the first floor of the Seamans Center. This lab contains:
Windows and Linux computers

27", 32" or 24" dual monitors

Users can print to printer queue ptrecs-labs-pcl and release printing pages from any of the three lab printers (One each in Hering, Elder, and Eltoft Labs).

Scanners on multifunction printers

Open 24 hours/day, 7 days/week except when closed for cleaning or maintenance
Although the labs are open all the time, the building is not and you will need your Iowa One® access card to enter the building.