Monday, February 20, 2023
Many industrial engineers solve problems by making systems more efficient and productive. When Megan Greenwood graduated with her industrial engineering degree from the University of Iowa in 2011, she was working to solve one issue in engineering: the lack of women engineers across industry. Before long, she would be addressing another problem: the lack of women-led breweries among the approximately 9100 breweries in the United States.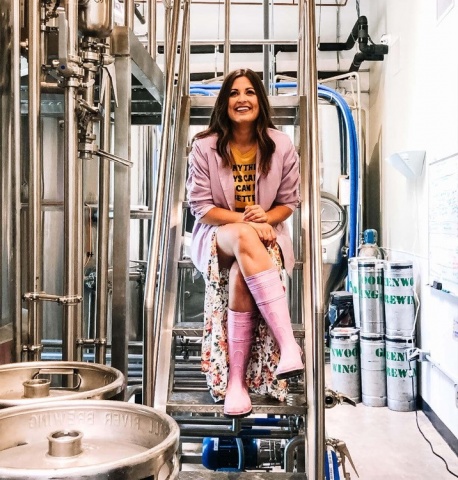 Solving for both problems, Greenwood took what she learned in the College of Engineering and her industry experience to go on to found Greenwood Brewing, which is one of fewer than 270 women-led breweries in the country. "When I moved to Boston after graduation, I did not expect to end up in the brewing industry," said Greenwood, who took a sales engineering position at Eaton after completing a co-op at Whirlpool, an internship at John Deere, and a senior project for Procter & Gamble as a student. "Eaton had interests in power management, which spoke to what I had learned both about manufacturing and quality control." As Eaton established new initiatives in alternative energy, Greenwood moved to Arizona, leading her own group and creating new business plans for Eaton in this emerging sector. Greenwood's move to Arizona and interest in a sector not fully established at her company reflected key strengths of her personality — an entrepreneurial mindset and an independent streak that has helped her start innovative projects from nothing.
"I was always impressed with Megan's creativity, and her interest in tackling new challenges set the stage for her future as an entrepreneur," said Jane Dorman, director of admissions and student life in the College of Engineering. "She had the unique ability to make things happen, like when she organized a successful engineering formal, which had not been hosted by the college in many years, if ever."
In 2017, a fortuitous gift from a roommate — a homebrew kit — would change Greenwood's professional trajectory. What began as a hobby with eight beers brewed in her garage would turn into a passion for Greenwood, who saw much of what she learned as an industrial engineer translating into the process of brewing beer both at home and on a larger scale.
"Brewing beer is a manufacturing process, not unlike any other industry," said Greenwood. "These are complex systems that involve ingredients, temperature management, bottling and canning, and distribution. Making the brewing process more efficient and profitable is exactly what an industrial engineer can do."
After learning that only two percent of breweries were women-led and that women beer drinkers were not being marketed to, Greenwood saw an opportunity and launched the Greenwood Brewing brand in 2017. In those early days, Greenwood partnered with local breweries that had capacity to brew her beer on their premises until she could establish her own operation. In 2018, she launched her first beer, Herstory, on International Women's Day. Two and a half years later, she would open the brewery's first physical location in a new building in downtown Phoenix, Arizona.
Greenwood attributes much of her success to her College of Engineering education and experiences as a student. "I was a student ambassador and a member of the college chapter of the Society of Women Engineers, which inspired me to encourage more women to get into STEM disciplines," said Greenwood. "My coursework and my faculty mentors helped me grow as an engineer and gain confidence in knowing I can make systems work better. Now, I am excited to share both my engineering story and how Greenwood Brewing can empower women and promote change."
This article is from Iowa Engineer Magazine 2022.