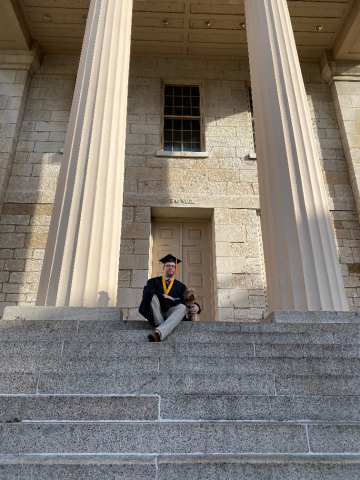 Recent University of Iowa graduate, Ryan Konecni, graduated in December with a degree in Chemical Engineering and is already planning his next move. Ryan grew up in California and took classes at a local community college. After taking time away from school to travel, Ryan realized that he wanted a career he was passionate about and one that would challenge him. Ryan, inspired by challenge, decided that Chemical Engineering would combine his two largest academic struggles (Chemistry and Calculus).  When applying to schools, Ryan felt that the department saw him as an individual rather than a statistic. This personalized experience allowed him to thrive during his time at the University. As Ryan explains, classes within the department opened his eyes to opportunity for professional experiences that would lead to his plans for post-graduation.  
What are your plans post-graduation?
After graduation I planned a quick turnaround to move to Chicago and start working for Smith & Burgess doing process safety consulting.
What opportunities or knowledge have you taken away from the department?
The University of Iowa is one of the few schools whose Chemical Engineering department has a dedicated a class to process safety. This class provided me with relevant industry knowledge that was useful in identifying and fixing safety concerns I found during my co-op at a manufacturing plant. Additionally, this class was a major factor in my successful application to work for a process safety consulting firm.
What was your favorite involvement at the University of Iowa?
The mentorship program was by far my favorite involvement. I was put in contact with an industry professional who would check in with me once a semester. We'd talk about current struggles, career guidance, resume tips, etc. He was a huge asset to me throughout the curriculum and I keep in touch with him to this day. I appreciate all your help, Jim!
What is one piece of advice you would like to share with first-year engineering students?
Getting through engineering just takes time. Don't be afraid of getting low grades, asking other classmates for help, or going to office hours. I guarantee at some point in your ChemE career, you'll tick each of those off. Don't think it's too early to start getting experience through an internship or co-op. Make connections and don't burn any bridges because you never know who you might be working with one day.