Richard Childress Racing driver Brendan Gaughan has been in hundreds, if not thousands of vehicles and race cars during his 18-year NASCAR career. But the 41-year-old has never had a driving experience like he did on Thursday in Iowa City.
The driver of the Richard Childress Racing U.S. Cellular No. 62 Chevrolet Camaro visited the National Advanced Driving Simulator at the University of Iowa on Thursday in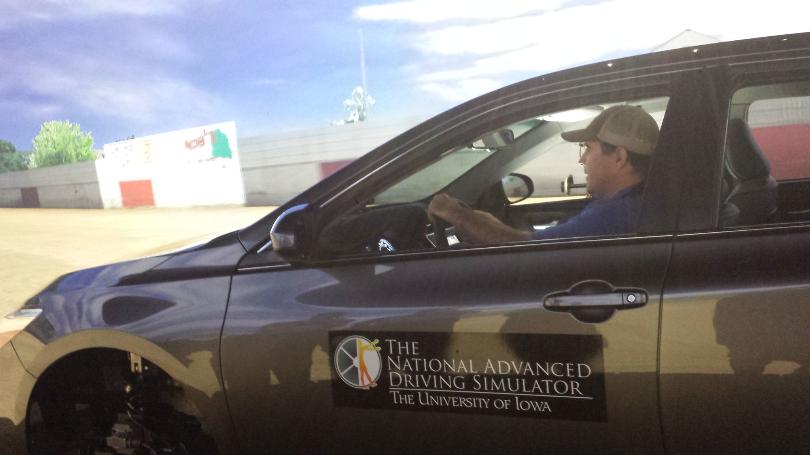 advance of the NASCAR XFINITY Series U.S. Cellular 250 at Iowa Speedway on July 30.
"Iowa has really become a big favorite of the drivers," Gaughan said. "It's because of the fans. Fans are what make race tracks great. The fans at Iowa – the atmosphere in the parking lot and midway is so different than any other track. I mean it, come from any other race track and you'll see the difference. It's like a Big-12 football atmosphere when you're hanging out at Iowa Speedway for the race."
Gaughan toured the state-of-the-art facility and spent nearly an hour in the simulator, testing his hand in a number of complicated experiences. The simulator is the only one of its kind in the United States and one of two in the world. Gaughan navigated a dirt oval, highway driving and other scenarios that showed the important research NADS does both for the private and public sector.
"Being able to come here and do this – this is why people want to become race car drivers," Gaughan said. "This thing is so cool. We have simulators in NASCAR, but they're very purpose-driven. This has technology in it that can go so many places in the world and can teach so many people."
U.S. Cellular, which has renewed its agreement with Iowa Speedway through 2017, will once again serve as the title sponsor for the annual race at "The Fastest Short Track on the Planet" on July 30. The two are entering their eighth year of partnership.
The NASCAR XFINITY Series U.S. Cellular 250 is coupled with the NASCAR K&N Pro Series Casey's General Stores 150 presented by Vatterott College on July 29-30. The two races round out what has been yet another fantastic season of racing in Newton, Iowa.
"We try to remind everyone that the human is still the most important part of the car," said Omar Ahmad, Director of Operations at NADS. "At this facility, we're about new technology. We're very interested in how racing can better utilize simulation so that drivers can be exposed to different tracks and their teams can use it as a tool."
After Gaughan spoke with members of the media at NADS, he went to the nearby Kirkwood Regional Center at the University of Iowa. There, he met with a handful of STEM students and participated in an impromptu "Kids Q&A" with school-aged children participating in a young entrepreneurial workshop.