The University of Iowa Center for Computer-Aided Design has made two key director appointments at its National Advanced Driving Simulator (NADS) and Advanced Manufacturing Technology (AMTECH) program.

Daniel McGehee, director of the Human Factors and Vehicle Safety Research Division of the University of Iowa's Public Policy Center, has been appointed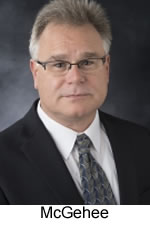 director of the National Advanced Driving Simulator (NADS) at the University of Iowa's Center for Computer-Aided Design (CCAD), effective August 17, 2016.  CCAD is a research unit of the College of Engineering.  He also will become associate professor of mechanical and industrial engineering.  In addition, he holds faculty positions in occupational health, and emergency medicine at the UI.  His appointment comes after a national search was conducted for the director's position.
McGehee replaces Herm Reininga, who has served as NADS interim director since 2009.  Reininga will move to a new role at CCAD as Director of the Advanced Manufacturing Technology (AMTECH) program.  This includes a significant effort with the the Digital Manufacturing and Design Innovation Institute (DMDI), a federally-funded research and development organization of UI LABS, and which encourages factories across America to deploy digital manufacturing and design technologies, so those factories can become more efficient and cost-competitive.
"Dan McGehee has the vision and expertise to lead the NADS to an even higher level of impact and achievement in the rapidly-changing area of driving research," Alec Scranton, dean of the College of Engineering, said.  "He will be providing exceptional expertise and leadership in several critical areas of vehicle dynamics, including the long-term strategies behind autonomous driving.  The NADS is an ideal research environment for studying issues and developing solutions associated with "driver not behind the wheel."
McGehee is a leading expert in studying car crashes for over 20 years. His driver performance, distraction, and technology development research has led to innovative, interdisciplinary collaborations involving engineering, medicine, and public health. Results from his research have helped policy makers to improve government safety standards, as well as state and federal laws. While the first generation of safety systems were designed to help protect occupants in cars, his research deals with preventing or reducing the severity of crashes. Such technologies have ultimately led to higher levels of automation on roads.  His research interests include driver behavior and performance, distracted driving, teen driving, traumatology, naturalistic driving, transportation safety policy, transportation technology assessment, driver response in crash avoidance.  McGehee earned a doctorate degree from University of Leeds, England.
Reininga was Senior Vice President of Operations for Rockwell Collins and was a corporate officer of Rockwell Collins. Reininga was responsible for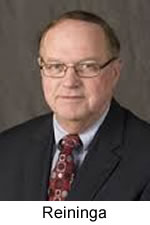 overall management of Rockwell Collins' global production and material operations, including manufacturing, material, quality, and facilities and manufacturing activities till retirement in 2003.  He currently also is Chief Engineer and Leadership Council of the (NGMTI) Next Generation Manufacturing Technology Initiative.  A graduate of the UI College of Engineering with a BSE degree in industrial engineering and management, Reininga is a member of the college's Distinguished Engineering Alumni Academy.
The National Advanced Driving Simulator (
https://www.nads-sc.uiowa.edu/
) is the most sophisticated research driving simulator in the world, located at University of Iowa Research Park, Coralville, IA. Developed by the National Highway Traffic Safety Administration, the NADS offers high-fidelity, real-time driving simulation. NADS utilizes its suite of world-class driving simulators and instrumented vehicles to conduct research studies for the private and public sectors. Development and research conducted at the NADS – sponsored by government, military, and industry partners – saves lives, is designed to improve quality of life for motorists, advance the state of the art in driving simulation, and improve the efficiency and productivity of the automotive and supporting industries.
CCAD (
http://www.ccad.uiowa.edu/
) provides a unique environment for research and development in computer simulation and modeling that spans seven research programs and over 16 laboratories with the involvement of faculty, staff, scientists, and graduate and undergraduate students.