By Gary Galluzzo

Engineer, artist, sculptor and more—that was Leonardo da Vinci, Renaissance genius.
Engineer, artist, furniture designer and more—that is Alex Zeppieri, 2015 University of Iowa graduate who is currently employed by a Chicago engineering firm. Having graduated with a civil engineering major and art minor, Zeppieri could be viewed as something of a modern-day "Renaissance engineer."
And thanks to a new curriculum requirement, virtually all UI College of Engineering students soon will graduate as "Renaissance engineers."
Beginning with the fall 2015 semester, all entering first-year undergraduate students have begun meeting a new faculty-endorsed requirement to take at least three semester hours in the arts. The range of courses available to students includes painting, dance, theater and many other activities not usually associated with engineering.
Why combine engineering and the arts?
"There is great interest from the arts faculty and students to engage with our college," says Professor and Associate Dean for Academic Programs Keri Hornbuckle.
"And there has never been a time when our approach, 'Educating the Engineer and Something More,' has had more potential for impact," says Hornbuckle, noting that engineers are increasingly viewed as cultural leaders, as well as technological leaders.
Although several universities have initiated collaborations between engineering and the arts—such as the University of Michigan's "ArtsEngine"—at least one new UI program is ground-breaking in visualizing how the two disciplines are related.
The new UI program, called "The Virginia A. Myers Nexus of Engineering and Art," is an idea, as well as a place for ideas, says Nexus Director Deanne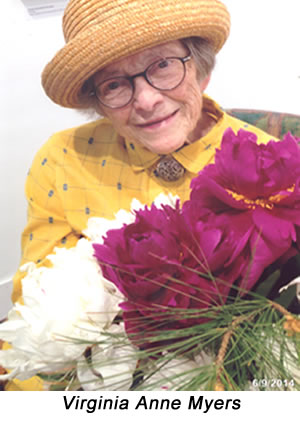 also serves as Adjunct Assistant Professor in Printmaking-Foil Imaging in the UI School of Art and Art History.
She says the word "nexus" is Greek for bridge and adds, "I'm the 'x'—I'm at the center—of the Nexus."
She notes that the program is named for Myers—Professor Emeritus of Printmaking in Art and Art History, famed printmaker and inventor of the Iowa Foil Printer that enables artists to blend gold leaf and foil into their compositions. Wortman, who studied under Myers, says she has followed a long and circuitous path to become the director of something she calls "a really interesting experiment."
She grew up in Minnesota. But only after her father—a returning GI on the GI bill who graduated from Iowa with an MFA (master of fine arts) degree in painting and printmaking—had moved the family to Northfield, Minnesota and started the print department at Carlton College.
Wortman attended the UI as a freshman in 1961, met her husband, Jack, and got married. After her husband passed the required federal exam, he went to work for NASA in League City, Texas, where they spent three years rubbing shoulders with astronauts.
The family returned to Iowa to continue their educations and enjoy the experience of having their children grow up in Iowa. She says that her husband completed his master's degree in history and she—finally in 1998—completed a master's degree in drawing and an MFA in intermedia arts, all while driving a city bus and working in the Iowa City Public Library in the Children's Room.
She says: "They finally said 'You have to graduate,' and I said 'Why?'"
Wortman describes her new position as an opportunity to bring art students and engineers together in a place where engineering students can participate in art classes as they earn their degrees. But she also views the nexus of engineering and art as more than a chance to broaden the engineering curriculum.
"The director of the NEA (National Endowment for the Arts) told me that about four percent of the U.S. GDP (gross domestic product) comes from the arts," she says.
In order to promote the Nexus, she has invited engineering and art students to visit her second-floor office in the Seamans Center for the Engineering Arts and Sciences. Once there, the students are invited to join something she calls the Nexus Club.
Wortman says the new Nexus Club is for "Artineers"—a term she says she invented to describe engineers interested in art, artists interested in engineering and other folks involved in engineering and the arts.
"Participants design and create new products, processes or devices that solve problems in society," she says. "If the door is open the Nexus is open."
Her proposed group creations include: a year-end Artineer's Journal of writings, pictures, interviews and projects; a designer and engineer collaboration in a logo contest; a giant marble machine; hot-stamped holiday card workshops; paper engineering pop-up book workshops; and "anything else the Artineers think up."
"When the College of Engineering asked me to be a bridge between engineering and art, I said, 'That's curious.' I like to take meandering paths in life. Usually when we go on a family trip, we take the longest route possible."
She suggests that learning how to incorporate foil-printing in a work of art is just such a circuitous skill.
"You must understand a multitude of things, including chemistry, metals, printing processes, paper composition and more." she says.
Other Nexus-related activities include:
•     Associate Professor of Chemical and Biochemical Engineering Julie Jessop will assist students in creating entries in the 2016 RadTech International poster competition. (RadTech is a non-profit organization promoting the use of ultraviolet and electron beam technologies in industry to save energy and reduce pollution.) UI students won first place and second place awards in the 2012 RadTech poster competition.
•    Professor of Metal Arts and 3D Design in the School of Art and Art History Steve McGuire will continue to offer his five-year-old handmade bicycle course to both engineering and art students. He says that many of the more than 70 students who have taken the course have gone on to become engineers and craftsmen in the bicycle industry. He also notes that the UI was the first academic institution selected to exhibit student work at the prestigious North American Hand Built Bicycle Show.
•    Associate Professor of Art and Art History Monica Correia will continue to teach a course she has taught for about six years in which students design and construct furniture, some of it award-winning. She notes that she always has students design a chair first because every office has a chair. Because the project calls for students to accommodate the shape of the body to a physical design, the project calls for a blend of ergonomics and aesthetics, she says.
•    Assistant Professor of Art and Art History Daniel Miller will teach a course called Introduction to Robotic Art Studio in which students investigate elements involved in integrating robotic systems with art. Robotics will be paired with such elements as light, sound, wearable technology and many other things.
Artineer Bailey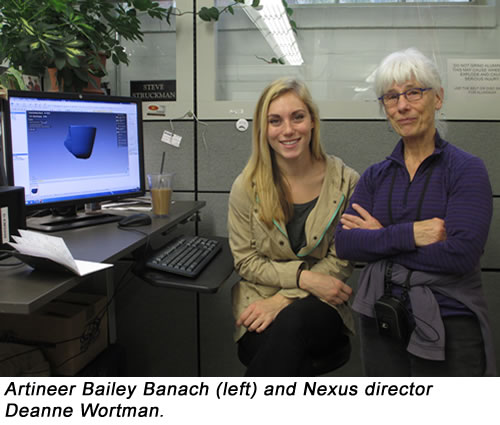 Her engineering senior design project—involving the use of a 3D scanner to scan the hands of a man who is missing portions of his fingers—is an attempt to create prosthetic fingers.
As a Nexus student, she also uses the 3D scanner in concert with Marta Nagy, Professor at University of Pécs, Hungary and Fulbright Scholar, to scan and help design ceramics.
"Working with Marta has made me understand the bridge between art and engineering. It took me years to understand the link; you can't have one without the other," says Banach, whose father is Hawkeye Athletic Hall of Fame Wrestler Ed Banach.
Marta says her work in the Nexus has advanced her personal project, "The Future of Ceramics."
"The art of ceramics has long followed traditional ways, but this is the start of a new era," she says. "The technology of 3D scanning has not really been used to its best advantage in ceramics. I want to research the limits of 3D scanning and use the machine to create new partners in design."
How does Virginia A. Myers react to the program that bears her name? She says, proudly, "First of all, it was an immense shock to learn of it. This, out of the clear, blue sky! I have such enormous respect for Dean Alec Scranton and the College of Engineering."
In summary and from an engineering perspective, the UI blending of engineering and the arts is a logical, "hands-on" part of the UI engineering curriculum.
Dean Scranton says the three-semester-hour requirement is an extension of many activities already in place that help to make UI engineers well-rounded engineers.
"In addition to providing a rigorous undergraduate engineering education, the college has long focused on key non-technical areas to help enhance a student's academic experience. This includes leadership, global awareness, teamwork, communications, entrepreneurship, and creativity," Scranton says.
"The engineering profession is an inherently creative endeavor in which engineers design and create new products, processes, or devices that solve problems in society and enhance the quality of life for humankind. When engineers and artists work together they can achieve especially impressive outcomes," he says.
As for Wortman: "I tell my students: 'Tell me you're curious—ask how, why and why not—because curiosity is a valuable concept,' " she says. "What if Leonardo da Vinci had not been curious? Leonardo was both an artist and engineer, and people like that should be our models."