Wednesday, November 18, 2015
Three University of Iowa College of Engineering faculty members were awarded gap funding by the University of Iowa Research Foundation (UIRF).  Their projects are among 10 which were chosen from 32 applications. The funding, a total of $625,000 for the 10 projects, helps principal investigators license their products and start new ventures.
Syed Mubeen, assistant professor of chemical and biochemical engineering, received gap funding for his light-driven sustainable desalination unit,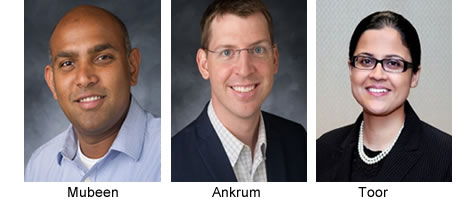 an innovative system for generating clean water in a way that is more energy efficient than currently available systems. Mubeen's innovation uses a two-phase approach: During the day, the unit will use sunlight to produce clean water from seawater and wastewater. At night, the brine will be used to produce electricity.
James Ankrum, assistant professor of biomedical engineering, was granted funding for "Development of a Self-Destructing Cellular Barcode for Single-Cell Analysis."
Fatima Toor, assistant professor of electrical and computer engineering and Ali Salem, Ph.D., Pharmacy, received funding for "A Silicon Nanowire Array Optoelectronic Cartridge for Cancer Biomarker Detection."
In place since 2007, the UI Commercialization GAP Fund Program has been highly successful at helping principal investigators license their products and start new ventures. Of all the gap-based startups founded since the program's inception, 21 have raised more than $33.5 million in additional funding, according to Director of UI Ventures Paul Dymerski.
The UIRF accepts gap fund proposals in the spring, beginning with a pre-proposal process and working with viable applicants to craft successful final proposals. Individual awards of up to $75,000 are given.
The UIRF and UI Ventures are part of the Office of the Vice President for Research and Economic Development, which provides resources and support to researchers and scholars at the University of Iowa and to businesses across Iowa, with the goal of forging new frontiers of discovery and innovation and promoting a culture of creativity that benefits the campus, the state, and the world.