Pablo Carrica, professor of mechanical and industrial engineering and faculty research engineer at IIHR--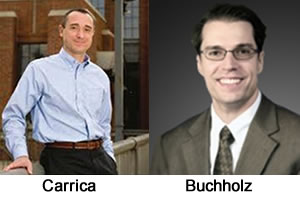 , associate professor of mechanical and industrial engineering and associate faculty research engineer at IIHR, have received a grant from U. S. Department of Defense, Department of the Navy, for "Engaging Undergraduates and High School Students in Naval Science & Technology."
The Office of Naval Research will provide about $600k over three years to establish a program at UI in the area of naval hydrodynamics.  The work will leverage the established Naval Hydrodynamics research program within IIHR, as well as the IIHR Fluids Workshop, to provide an experiential learning environment where students will engage with Navy lab engineers to solve real problems of interest to the Navy.
Carrica and Buchholz have established a certificate program in naval hydrodynamics within Mechanical Engineering so that students can obtain formal education in the area and recognition for their participation in the program. 
The project will also fund some substantial additions to the Fluids Workshop, including the creation of an educational version of Carrica's ship hydrodynamics computational fluid dynamics solver, REX, and the construction of a combined towing/wave tank for ship hydrodynamics experiments. 
In addition to involving students currently in the Mechanical Engineering program, Carrica and Buchholz will be reaching out especially to veterans on campus and to under-represented groups to participate in the program.  There is also an outreach component in which they will be engaging Iowa high school students through the Upward Bound and FIRST Tech Challenge programs.