Rockwell Collins, Inc., a corporate partner of the UI College of Engineering, moved a major step forward recently with the Type 1 certification by the National Security Agency (NSA) of the company's new Multiple Independent Level of Security (MILS) encryption device and architecture.
The device, named KOV-74, was developed to maximize commonality among range instrumentation systems for Test and Evaluation (T&E) and training applications. The device is Cryptographic Modernization-compliant and enables secure, cross-domain interoperability between networks, platforms and U.S.-Coalition operations of differing security levels as part of the Common Range Integrated Instrumentation System (CRIIS).
Rockwell Collins has been testing the capability since 2012, teaming with the University of Iowa's Operator Performance Laboratory and its L-29 aircraft during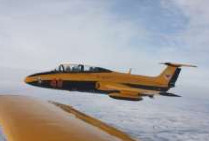 that time.
"We're producing hardware in our factory, installing and getting ready to test at Naval Air Station Patuxtent River and Eglin Air Force Base in 2015," said Tommy Dodson, vice president and general manager of Surface Solutions for Rockwell Collins. "We're excited to begin using this technology to help our military customers develop MILS Live-Virtual-Constructive training concepts to help F-35 pilots train more efficiently, and with legacy aircraft."
To learn more about the Rockwell Collins project, go to http://www.rockwellcollins.com/Data/News/2015_Cal_Yr/GS/FY15GSNR31-CRIIS.aspx.