Wednesday, March 25, 2015
By Gary Galluzzo
University of Iowa Strategic Communications
A device that helps surgeons to remove sutures more efficiently during eye surgery was one of five presentations given March 25 by students in the University of Iowa College of Engineering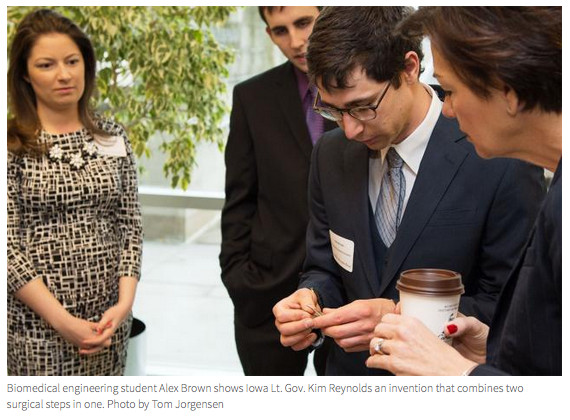 Biomedical Engineering Senior Design program.
The students are completing their projects in conjunction with the Iowa Medical Innovations Group, which combines students from the disciplines of engineering, medicine, law, and business.
Iowa Lt. Gov. Kim Reynolds visited with the students and learned that all five teams have filed provisional patents for their medical devices and technologies. After thanking the students and faculty for being invited to the presentation, she told students she was keeping her remarks brief because she wanted "to listen and learn."
In the case of the "Ophthalmology Suture Extractor," team member Alex Brown showed Lt. Gov. Reynolds that the invention has the ability to combine two surgical steps in one. The device slides onto a pair of tweezers where it can be used to cut sutures as well as remove them, thereby eliminating the need to use scissors.
The primary users of the device would be medical residents and doctors. If the device is shown to be sufficiently safe and easy to use, then it may also be of value to nurse practitioners and physician assistants.
Sarah Vigmostad, assistant professor of biomedical engineering, says that the goal of her students is to develop a product during the academic year, then decide whether to form a company.
Commenting on the value of the March 25 presentation session, she says, "It gives the students a new way of looking at their work. They have an opportunity to describe the impact of their work to someone who hasn't been involved in the process."
The Ophthalmology Suture Extractor team is composed of: Alex Brown of Batavia, Illinois; Jena Edwards of Council Bluffs, Iowa; Yang Wu of Shanghai, China; Kimberly Johnson of Des Moines, Iowa; David Maddox of Orem, Utah; Michael Redmond of Sioux City, Iowa; Deepti Sharma of Fairfield, Iowa; and Michelle Wallace of Johnston, Iowa.
In addition to the students, the project involved Field Mentor Dr. Brad Sacher, resident in ophthalmology in the UI Roy J. and Lucille A. Carver College of Medicine, and Biomedical Engineering Mentor James Ankrum, assistant professor of biomedical engineering.