Wednesday, November 12, 2014
Web Note:  The Iowa Brace was developed by a team of UI experts, led by Nicole Grosland, UI professor of biomedical engineering and researcher at the Center for Computer-Aided Design.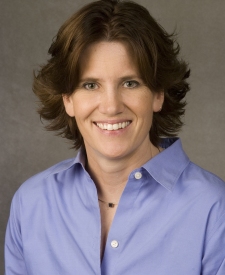 By Josh O'Leary
Iowa City Press-Citzen
When big-eyed, round-faced Bernardo Herrera was born this past spring in Chile, his parents' joy was soon coupled with concern.
Doctors told them Bernardo had clubfoot, a birth defect characterized by the feet turning down and inward, and the young couple was worried about whether they would be able to find and afford the right treatment.
But the Herreras eventually connected with one of the few doctors in the South American country well-versed in the Ponseti Method, a non-surgical technique using casts and braces now considered to be the gold standard in treating clubfoot. The orthopedic surgeon fitted Bernardo with one of the first models of an inexpensive new brace that soon will be shipped around the world to help many of the estimated 150,000 to 200,000 children born with clubfoot each year.
"Now we are truly happy because he is using the Iowa Brace, and he looks really comfortable and his feet are getting better day by day," said Bernardo's father, Manuel Herrera, in an thankful email to doctors at the University of Iowa earlier this fall.
The Ponseti International Association, a UI-based organization that trains health care workers around the world to perform the technique developed by the late Dr. Ignacio Ponseti in Iowa City, has been working the past three years to develop a low-cost, high-quality brace to treat children with clubfoot in poor countries.
The first batch of 30,000 braces is in production, and through a new nonprofit company established by Ponseti International called Clubfoot Solutions, the simple devices will be distributed in the coming months around the world.
While current models can cost $500 to $600, the equivalent of one or two years' pay in some developing countries, the new Iowa Brace, as it's being called, could cost families one-tenth of that or less, depending on where they live.
Thomas Cook, director of global operations for Ponseti International, said parents of many children born with clubfoot around the world can't afford to purchase a brace, which is worn to keep the newly repositioned feet in place after the child undergoes a multi-week casting process. For other families, the only braces available often are crudely made and uncomfortable, decreasing their effectiveness when the parents give in and take it off to allow their children to sleep.
"These kids don't know they were born in a developing country, so why should they get second-class treatments?" Cook said. "Why should they get something that doesn't work, when they should have the same thing a kid anywhere else has? It's been a challenge to develop something at that high of quality at that price, but we've had some support from some great people."
Plans call for crates of 3,000 braces each to be delivered initially to eight or so locations worldwide, including Pakistan, Nigeria, Brazil and Jordan, where Ponseti International has partnered with health care workers. The goal is for the nonprofit business to be self-sustaining, with proceeds from sales going toward the manufacturing of more braces and subsidizing the price point in the poorest countries.
According to the Ponseti Method, children are required to wear the brace, which resembles two boots connected by a bar, all day for three months after the last cast comes off, and after that, while they sleep at night for about four years. The new Iowa Brace is made with a durable, molded plastic bar connecting two soft, breathable boots mounted on platforms that turn the feet slightly out and up.
"The problem is that in developing countries where people live on $1 a day, they cannot pay $600, and 80 percent of kids with clubfoot are born in developing countries," said Dr. Jose Morcuende, a professor of orthopedics and rehabilitation at UI and chief medical director for Ponseti International. "That is one of the main issues right now globally. As more people are learning the method and applying the method, plaster casts are available in most places to deal with fractures, but the braces become an issue."
Ponseti, who died in 2009 at age 95, revolutionized treatment of clubfoot — which occurs during development in the womb — during his nearly seven decades of work at UI during which he treated thousands of children. Ponseti discovered that clubfoot could be corrected with a far less invasive and safer method than the traditional surgery approach. Ponseti's method instead uses manual manipulations, casts and braces to stretch the ligaments and realign bones in the foot.
Typically for infants, four to six casts are needed, which are changed almost weekly. When one cast is removed, the doctor bends the foot more, and then a new cast is put on to hold the foot in that position. The treatment works best on those 1 year old and younger, when the ligaments and muscles in the foot are more flexible.
After about three weeks, the casts are removed and the child is put in a brace to keep the feet immobile. The brace is worn for about four years, with the rate of relapse after three years about 10 percent, and almost 0 percent after five years. Left untreated, walking with an uncorrected clubfoot can be very painful and difficult, if not impossible.
The Iowa Brace was developed by a team of UI experts, led by Nicole Grosland, a professor of biomedical engineering, and funded through a $74,000 UI Research Foundation grant and private donations.
"Ignacio's dream was that the poorest child could have the same brace as the richest," said John Buchanan, an Iowa City philanthropist who sits on Ponseti International's board of directors. "That became a driving force — to get one brace for all."
During a recent videoconference with Ponseti International leaders, Zumnan Songden, a Nigerian doctor who has used a prototype of the Iowa Brace, said finding a brace can be difficult in some parts of the country, where about 8,000 children a year are born with clubfoot.
Songden said having an affordable option that is comfortable for children will keep parents from getting discouraged with the process.
"With this brace, I think it will solve a major part of the problem," Sogden said.
In Chile, baby Bernardo's parents said they visited with a few doctors about their child's clubfeet before eventually connecting with Dalia Sepulveda, a Chilean doctor in who serves on Ponseti International's advisory board. Sepulveda used the new brace, which has a soft silicone liner, for the first time as part of Bernardo's treatment, replacing a less comfortable leather-shoed brace.
"We think your Iowa Brace is a terrific option," said Herrera, Bernardo's father, in his recent email. "No more ugly leather orthosis."