Wednesday, October 22, 2014
By Leah Klevar
University of Iowa Foundation
 
The University of Iowa College of Engineering has reached a major milestone in "For Iowa. Forever More: The Campaign for the University of Iowa."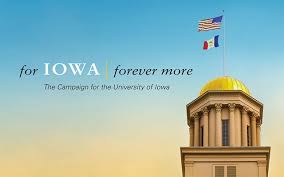 The UI College of Engineering has raised $42 million, 77 percent to goal as part of "For Iowa. Forever More: The Campaign for the University of Iowa."
It has raised $42,725,895 in private support, with gifts made through the UI Foundation, since the campaign began in 2008, which is 77 percent to goal. The college is on track to reach its current goal of $55 million as part of the university's $1.7 billion comprehensive campaign, which concludes in 2016.
More than 2,700 alumni and friends have made gifts in support of the UI College of Engineering's students, faculty, staff, programs, and facilities during the campaign. These gifts help the college sustain its work of "educating the engineer . . . and something more," producing graduates who can lead the way in addressing global challenges.
The college's campaign goals focus on ensuring student success through support for scholarships, fellowships and the Grand Challenge Scholars Fund; advancing faculty teaching and research; partnering with the state and university on facilities enhancements; fostering community outreach; and securing unrestricted funds that can be directed to areas of greatest need.
"The UI College of Engineering is experiencing tremendous growth in the scope and impact of its teaching, research and service programs thanks to the dedication of our faculty, staff, alumni and friends," says Alec Scranton, dean of the UI College of Engineering. "We have record enrollments, a thriving research enterprise, and outreach programs that span the entire state. These accomplishments would not be possible without support from our alumni and friends during this capital campaign."
U.S.News & World Report ranks the UI College of Engineering among the top 20 percent of engineering graduate and undergraduate programs nationally. The college attracts and retains talented students from around the world. Its incoming students' ACT scores are in the top 10 percent nationally, and more than 50 percent of students have graduated with an additional major, minor, certificate, honors, or with distinction.
About the UI Foundation
The UI Foundation's mission is to advance the UI and fulfill the aspirations of those it serves. The university's dedicated contributors fund a broad array of needs, from student scholarships, breakthrough research and life-changing health care to innovative facilities, community outreach and global education.
The UI and UI Foundation are conducting a historic comprehensive $1.7 billion fundraising campaign, For Iowa. Forever More: The Campaign for the University of Iowa, which will secure the UI's status as a world-class institution for future generations.
The UI Foundation is the preferred channel for private contributions that benefit all areas of the UI. For more information about the foundation and the campaign, visit the UI Foundation website.