The College of Engineering is committed to creating an environment  in which all members of our community (including students faculty, staff, alumni, and friends) are welcomed and supported, and where differing perspectives and contributions are sought out and valued. The intellectual space in which our students thrive and where research develops must reflect and respect the diversity valued by our college community. Through our DEI efforts, we seek to grow and to learn about the ways in which we can foster difficult conversations around representation and enhance the experience of Iowa Engineers throughout their careers.
DEI Council
Our council includes engineering students, faculty, and staff working together to promote a culture that values diversity, equity, and inclusion.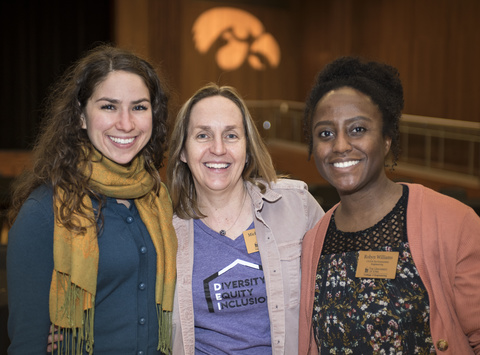 The American Society for Engineering Education (ASEE) has recognized the College of Engineering at the University of Iowa as part of its Diversity Recognition Program. The college has been awarded the bronze level, which is the highest level ASEE currently has for this honor. ASEE created this program "to publicly recognize those engineering and engineering technology colleges that make significant, measurable progress in increasing the diversity, inclusion, and degree attainment outcomes of their programs." 
 
Cultural and Identity-Based Engineering Student Organizations
Increasing the number of culturally responsible Black engineers and scientists who excel academically, succeed professionally and positively impact the community.
SHPE changes lives by empowering the Hispanic community to realize its fullest potential and to impact the world through STEM awareness, access, support and development. Join the Familia!
SWE supports and empowers women in both their academic and professional careers and aspirations. All are welcome to attend SWE events, which include opportunities for professional development, socializing, volunteering, and outreach.
Providing LGBT+ individuals in STEM majors the resources they need for community, self-exploration, and professional development that is not offered in other spheres of campus life.
The Female Alliance of Civil Engineers exists to create a community on campus with the purpose of improving the networking opportunities for women and their allies within the Civil Engineering department at the University of Iowa.
Women in Stem Ambassadors (WiSA) is a community of womxn wishing to enrich their own lives and give back to the community. We organize educational and social events for members and plan outreach events for the wider community.
SACNAS chapters are a powerful and inclusive source of community that provides local and regional support for college students and professionals to succeed in STEM. Collectively, our chapters are the on-the-ground ambassadors behind SACNAS' movement to achieve true diversity in STEM.  
The world is rich with diversity, which is reflected in the observances celebrated by its various cultures and populations. Knowledge of diversity holidays and celebrations can enhance diversity and inclusion efforts.
Explore the calendar now
DEI Event Calendar
Monday, December 5, 2022 2:00pm to 4:00pm
Do you have general inquiries about studying abroad? UI Study Abroad staff are at the ready to help you plan the experience of a lifetime. Study Abroad offers weekly Open Advising hours every Monday, Wednesday, and Friday so you can get your questions answered quickly.
Monday, December 5, 2022 3:30pm to 5:00pm
Description:  In this two-part interactive session, you will learn about the four intercultural conflict styles. You will discover your preferred cultural approach for resolving conflict and that of others by completing the Intercultural Conflict Style (ICS) inventory developed by Dr. Mitchell Hammer. In addition, there will be opportunities to apply ICS concepts in practice through discussion and case studies.    Participants in this session will be able to: Describe the four styles of the...
Tuesday, December 6, 2022 9:00am to 11:00am
The Building University of Iowa Leadership for Diversity (BUILD) initiative is an opportunity for UI faculty, staff, post-docs, and graduate students to gain strategic knowledge and skills to contribute to a welcoming and inclusive environment for all. By completing a series of workshops, participants will earn a certificate demonstrating their commitment as leaders to diversity, equity, and inclusion in the workplace and classroom. To get session details and register for UI campus courses, log...
View more events
The Office of Institutional Equity can provide you with complaint options (both informal and formal) and resources for bias, harassment, discrimination, equity, and sexual misconduct concerns.