The National Advanced Driving Simulator (http://www.nads-sc.uiowa.edu/) is partnering with the UI Public Policy Center (http://ppc.uiowa.edu/) and MyCarDoesWhat.org (https://mycardoeswhat.org/) to develop a miniSim(TM)-based (http://www.nads-sc.uiowa.edu/sim_minisim.php)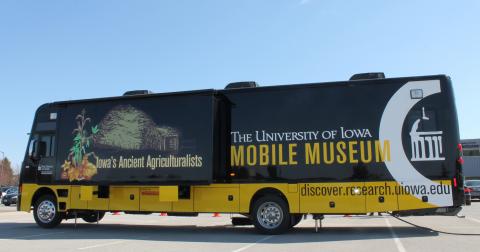 exhibit that is going to travel throughout Iowa as part of the UI Mobile Museum (http://discover.research.uiowa.edu/mobile-museum).  The interactive exhibit enables people to experience what modern vehicle safety systems are like and how they help improve safety.

There will be a kick-off party at 12:00 Noon Friday,  April 8, at the Adler Journalism Building Rotunda.

The University of Iowa Mobile Museum launched in 2014 as a partnership between the UI Vice President for Research and Economic Development, the Office of the State Archaeologist, the UI Museum of Natural History, and the Old Capitol Museum.

The Mobile Museum inspires visitors to understand the world by bringing exhibits with cutting-edge research, one-of-a-kind artifacts, and interactive digital media to Iowa's communities statewide.  It promotes interdisciplinary partnerships and collaborations to present UI research and stimulate understanding, appreciation, and pride for the University of Iowa and the state.