Wednesday, October 8, 2014
The College of Engineering will hold several activities October 10 and 11 to celebrate Homecoming 2014.
The 2014 version of the famous Engineering Corn Monument is on display on the west side of the Pentacrest.  Created by the student chapter of the American Society of Civil Engineers,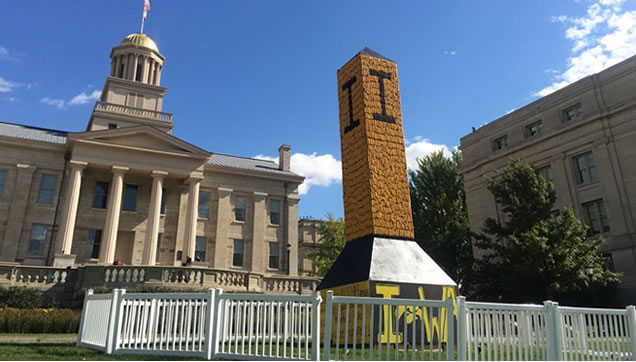 the monument – made of hundreds of ears of Iowa corn – is on display until Sunday.  The display provides an excellent photo opportunity for family and friends.
October 10 will be the Party after the Parade.  Following the Homecoming parade, alumni, friends, faculty, students, and family members will head to the Seamans Center for the Engineering Arts and Sciences to join Party after the Parade.  "Future" engineering students can participate in games and activities hosted by engineering student organizations.  During the evening, Herky and members of the Hawkeye Marching Band will stop by to raise spirits with a arousing rendition of the Iowa Fight Song.  It's a great time to visit, get in the Homecoming spirit and enjoy complimentary light refreshments provided by the College.
On Homecoming Saturday, October 11, faculty, staff and students, alumni, and friends of the College will gather at the Tailgate Open House, Second Floor Lobby of the Seamans Center.  Relax to the sounds of the steel drum band, enjoy a complimentary buffet and get ready for a Hawkeye victory.