BS 1970 in Mechanical Engineering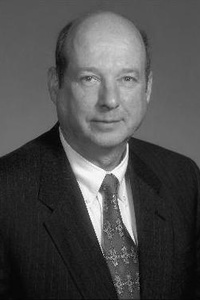 College of Engineering alumnus Robert E. Moulds has had two fascinating, very diverse careers. He retired as vice president, engineering of Deere & Company in 2006.  Since then, he's devoted his time to another love, his 30,000 tree Christmas tree farm, Wapsie Pines Tree Farm, which he started in 1980.   In addition, he has served as president of the Iowa Christmas Tree Growers Association. Along with Christmas tress he and his sons have built and are operating an Aquaponics year round all natural vegetable producing greenhouse. This is a leading edge closed loop production system that uses fish to produce needed nutrients naturally. It is free of all pesticides and synthetic or manufactured fertilizers. Moulds also is active in grain farming. In addition he serves on technology advisory boards for two multinational companies assisting them on technology strategy development and implementation including global collaboration.
After earning his UI mechanical engineering degree in 1970, Moulds joined the John Deere Product Engineering Center in Waterloo, Iowa, in 1970 as a design and test product engineer. He held positions of increasing manufacturing and engineering responsibilities, including manager, worldwide agricultural tractor engineering. In this leadership role, he inspired collaboration between Deere-Waterloo and Deere-Mannheim, Germany, laying the foundation of global teamwork that has guided Deere worldwide.
He was named Deere vice president in January 1999, responsible for directing advanced technology development and engineering services that supported Deere worldwide. He also led the creation of the Deere & Company Technology Council, a worldwide organization instrumental in shaping corporate technology strategies and development.
Moulds has given generously to assist talented Engineering students with scholarships focused on 21st century engineers who must understand how to solve problems in a global collaborative environment.  That is the premise underlying the College of Engineering's Virtual International Project Teams (VIPT) course.  Getting involved was a natural for Moulds.  For much of his career, he led multi-national engineering teams at the agricultural and construction/forestry firm.  Preparing tomorrow's engineers for this global environment inspired him to provide significant annual giving to the VIPT program.  Through the power of communication media, UI engineering students and their peers at the Ecole Polytechnique Universitaire de Marseilles meet for class, tackle engineering problems collaboratively, and become friends.  Each student team must work with a student team from the other institution, an approach that enhances the challenge of collaborating effectively in a multi-cultural environment. 
Inducted: Saturday, June 10, 2006