Professor Robert L. Smith
BS 1947, MS 1948 in Civil Engineering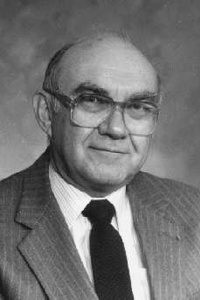 Robert L. Smith was awarded posthumously the Distinguished Engineering Alumni Award from the University of Iowa Alumni Association. His career was a combination of public service, private-sector practice, university teaching, and research about water issues. He was a pioneer in water resource development, an educator, and a practicing engineer. He successfully applied engineering methods to water resource planning and policy development. Instrumental in shaping water policy for the states of Kansas and Iowa, his pioneering studies became the model for other states around the nation. He served as the Presidential Science Adviser for water resources for President Lyndon Johnson and his work on water availability has been used in 42 states, the District of Columbia, Puerto Rico, and nine foreign countries. In his 30 years of faculty service to the University of Kansas, Smith also carried out major assignments with public and private organizations. His studies led to the adoption of a state constitutional amendment allowing Kansas to convert many single-purpose flood control projects to multipurpose reservoirs.
Mr. Smith has earned awards for both technical achievement and public service. In 1975, he was the first member of the University of Kansas faculty and one of the first UI engineering graduates selected to the National Academy of Engineering. In 1988, he received the Julian Hinds award from the American Society of Civil Engineers, and in 1980 he was awarded the U.S. Geological Survey's Centennial plaque. Both of these honors recognized his sustained contributions to water resource management. At the University of Kansas, he was appointed Deane E. Ackers Distinguished Professor of Civil Engineering in 1970 and was Chairman of the Civil Engineering Department for six years. He directed the Water Resources Research Institute in its formative years and served as a Trustee at KU's Center for Research Inc. In addition, he was presented with KU's Distinguished Engineering Service Award in 1993.
Nationally, he was active in many technical and governmental advisory committees. When the National Research Council established a permanent Board for Water Science and Technology, he was named a charter member. He received top awards from the American Society of Civil Engineers, the American Institute of Hydrology, the U.S. Geological Survey, and the Kansas Engineering Society.
Always an enthusiastic UI supporter, Mr. Smith and his wife Lucille, (48BA), have been members of the Alumni Association, the Old Capitol Club, and the UI Foundation's President's Club.
Inducted: Saturday, February 24, 1996