BS 1933 in Chemical Engineering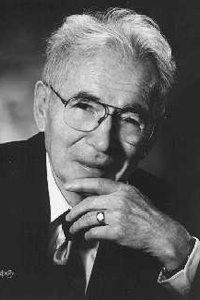 Prof. Himie Voxman was born in Centerville, Iowa, and attended the UI by teaching clarinet to high school students to pay for his college expenses. After obtaining his Bachelor of Science degree with high distinction, he then went on to receive his Master's degree in 1934. He joined the UI faculty in 1939. In 1954, he became director of the School of Music, a position he held for 26 years, until his retirement in 1980. Deservedly so, the Voxman Music Building was named in his honor. He has published numerous compilations and editions for wind instruments and co-authored four bibliographies of wind instrument literature. In this area of specialization he has served as advisor for over forty doctoral dissertations. He also is a former Vice-President of the National Association of College Wind and Percussion Instructors, and has held various state and national offices in both the Music Educators' National Conference and the Music Teachers' National Association.
Prof. Voxman has served as Chairman of the Commission on Graduate Studies for the National Association of Schools of Music, and on the National Commission for Accreditation of Teacher Education, and the North Central Association of Colleges and Schools, as well as a field reader for music projects for the Department of Health Education and Welfare, and a member of the Academic Panel for cultural exchange projects for the United States Department of State. He has received citations and awards from Phi Mu Epsilon, Kappa Kappa Psi, Pi Kappa Lambda, Sigma Alpha Iota, Tau Beta Pi, Phi Lambda Upsilon, Sigma Xi, and also received class honors. The Iowa Bandmaster's Association presented him an Honorary Life Membership, and the Iowa Music Educators Association, its Distinguished Service Award. The Bell System awarded him its Silver Baton, and he holds the Honorary Degree of Doctor from Coe College and a Doctor of Humane Letters from DePaul University. In 1984 he was the woodwind judge for the finals of the Canadian National Competitive Festival of Music. He has received the Award of Merit from the Federation of State High School Music Associations and received the Distinguished Service Award from the Missouri State High School Activities Association. In 2000, he was awarded a Lifetime Achievement Award by the International Clarinet Association. In April 2003, he was named a Lowell Mason Fellow of MENC: The National Association for Music Education.
Perhaps as much because of his gentle manner as his thorough methodology, Professor. Voxman has encouraged thousands of musicians to attain their individual potential. Active in professional organizations, he continues to influence new generations of music-makers. He is Professor Emeritus of the UI School of Music. He is a member of the Alumni Association and the UI Foundation's Presidents Club.
Inducted: Saturday, February 24, 1996