Lt. Gen. (Ret.) John W. Morris
MS 1948 in Engineering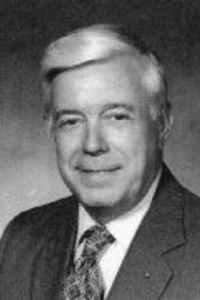 Lt. Gen. John W. Morris earned his Master's degree from the University of Iowa following service in World War II for the U.S. Army Corps of Engineers. After further education at the University of Pittsburgh and completion of the military school's program, he was promoted in 1968 to Brigadier General and ordered to Vietnam.
From 1970 to 1980, Lt. Gen. Morris took on a series of public works assignments, leading to his selection as the Army's 44th Chief of Engineers in 1976. These assignments included several of tremendous magnitude, such as Lock and Dam 26 on the Mississippi River, the Tennessee Tombigbee Waterway project, and the Saudi Arabian Military Assistance Program. During the decade, Lt. Gen. Morris also modified the organization of the Corps of Engineers and changed its focus to more environmental objectives. Until his death in 2013, he served as President of J. W. Morris, Ltd., an engineering consulting firm that assisted companies in developing corporate plans in environmental and engineering construction matters.
Lt. Gen. Morris also showed a strong commitment to education. In addition to receiving the first endowed chair in construction management at the University of Maryland, he also was Honorary Professor at East China Technical University, Trustee of the Association of Graduates of the U.S. Military Academy, and Adjunct Professor at the University of Maryland.
Lt. Gen. Morris received several awards in recognition of his outstanding career. He was one of only 31 engineers to ever receive the National Academy of Engineers' Founders Award. In 1977, Engineering News Record named him Construction Man of the Year. He also received the Defense Meritorious Service Medal, the Army Distinguished Service Award, five Legions of Merit Awards, the National Parks and Recreation Association's Humanitarian of the Year Award, the Palladium Medal from the Audubon Society, and a Presidential Award from President Lyndon B. Johnson. In 1998, he was selected a Distinguished Graduate of the U.S. Military Academy.
Inducted: Saturday, February 28, 1998