Lt. Gen. (Ret.) Carroll H. Dunn
MS 1947 in Civil Engineering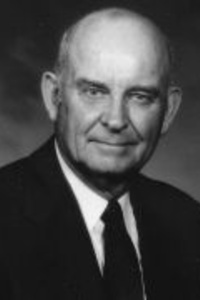 Lieutenant General (Ret.) Carroll H. Dunn began his 35-year Army Engineering career in 1938, which took him from a Second Lieutenant through Lieutenant General, U. S. Army. His career included a Battalion Commander at age 26 with 11 months combat in World War II, construction supervision of projects such as the National Aeronautics and Space Administration (NASA) Manned Spacecraft Center at Houston, Arkansas River Navigation and Flood Control Project, and both Titan II Missile Base construction and Ballistic Missile Early Warning System for the Air Force. Other assignments included Director of Construction and Logistics for the Military Assistance Command in Vietnam, Deputy Chief of the Army Corps of Engineers, and Director of the Defense Nuclear Agency.
His second career began upon retirement from the Army in 1973. He served as Senior Vice President for Construction, Engineering, and Environmental Affairs for Consolidated Edison Company of New York. He was responsible for upgrading and expanding power generation and high voltage transmission for the New York City metropolitan area.
Following his retirement from Consolidated Edison in 1981, he became a consultant to the Business Roundtable's Construction Committee, directing in-depth study of the nation's construction industry. This resulted in the publication of a series of reports containing recommendations for substantial improvement in the efficiency and stability of the construction industry. One of the recommendations led to the establishment of the Construction Industry Institute at the University of Texas-to continue research of construction problems, from planning and engineering to construction and completion.
Among his awards in recognition of service in the military are the Distinguished Service Medal with two oak leaf clusters, Silver Star, and the Purple Heart. He also received the Chiefs of Engineers Award for Outstanding Public Service for contributions to the Army and the Nation as an Engineer Officer and civilian. For service as a member, and later as Chairman of the NASA Safety Advisory Board, he received the NASA Public Service Award. Until his death in 2003, he was a Fellow in both the American Society of Civil Engineers and the Society of Military Engineers. He also was a member of the National Academy of Engineering. Lieutenant General Dunn died in 2003.
Inducted: Friday, June 7, 2002