BS 1944 in Mechanical Engineering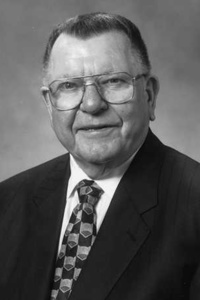 James R. Lightner was Chairman and President of Electrospace Systems, Inc., Richardson, TX. Until his death in 2006, Mr. Lightner exemplified the "can-do" entrepreneurial spirit found in many successful UI engineering graduates. In 1970, he, along with four other engineers, started Electrospace Systems at a dining room table with a calculator and a three-year financial plan. Under Mr. Lightner's guidance as Chairman, President, and Treasurer, the company became one of eastern Texas' largest employers. In 1987, after 17 years of continuous growth, the company was sold to the Chrysler Corporation.
After receiving his BS degree in mechanical engineering in 1944 from The University of Iowa, Mr. Lightner worked on the design and development of rubber products, refrigeration equipment, and aircraft fuel systems for turbine type engines. He joined Collins Radio Company in 1953, where he held several positions, including Department Head and Assistant Division Director of Manufacturing. He managed and designed major programs such as the TACAMO VLF airborne communication system and antenna systems for Minuteman missiles and the Atlas-titan rocket. At Collins Radio, he also served as Division Director of Fabrication, responsible for total operations in building and fabricating parts for the Dallas region, and as Division Director of Production, involved in the assembly, test, and delivery of communications and antenna equipment for weather radar, and broadcast. Mr. Lightner served as a member of several business boards and advisory councils, and contributed considerably to community service in Iowa, Ohio, Texas, and Washington, D.C. He was a member of The University of Iowa President's Club and the Alumni Association Honors Circle.
Inducted: Saturday, June 10, 2000