BS 1959 in Chemical Engineering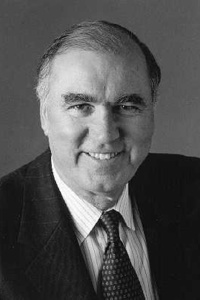 H. William Lichtenberger has demonstrated exceptional engineering talent and leadership from a firm educational foundation he received from The University of Iowa in the 1950s to be a successful executive career with Union Carbide Corporation and Praxair, Inc. Until his retirement, he had led Praxair, the largest producer of industrial gases in the U.S., as Chairman and Chief Executive Officer since 1992. Today, the company is a global company, headquartered in Danbury, Connecticut.
Joining Union Carbide Corporation in 1959 as a research engineer, he was awarded several patents, including one on a process for storage of cryogenic fluids. Mr. Lichtenberger worked his way through the ranks at Union Carbide to President and Chief Operating Officer. He has also held many international posts and serves on the Board of Directors for Ingersoll Rand Co., Arch Chemicals, and Noveon, Inc.
Mr. Lichtenberger has been ranked by Forbes magazine as one of Corporate America's 800 most powerful executives. He was a member of the Chemical Manufacturers Association, and the Society of Chemical Industry, and was a Director of the Business Round Table and the National Association of Manufacturers.
Mr. Lichtenberger has maintained a high level of involvement with The University of Iowa since his graduation with a Bachelor of Arts in 1957 and a Bachelor of Science in chemical engineering in 1959. He also has a Master's in Business Administration and Honorary Doctorate of Letters from the State University of New York. He is a member of the Engineering Dean's Club and UI Alumni Association Directors' Club, a member of the President's Club and The College of Engineering Building Campaign Steering Committee. He also served on the College's Advisory Board. In 1997 , Mr. Lichtenberger received the UI Distinguished Alumni Award for Achievement. In 1996, he created an endowed scholarship through the University of Iowa Foundation that annually provides four awards -- two to chemical engineering students, and two to engineering students of any discipline who show potential for excellence. He was Chairman of the United Negro College Fund, Connecticut Corporate Campaign, and served on the Western Connecticut State University Advisory Board.
Inducted: Saturday, February 15, 1997