BSCE 1979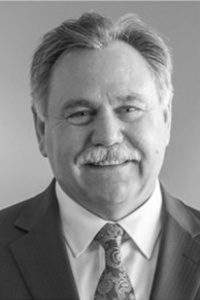 Eric L. Keen is a recognized leader in the national and international civil and environmental engineering community.  As chairman and CEO, Keen leads HDR, an Omaha-based firm with more than 200 worldwide locations that specializes in engineering, architecture, environmental and construction services.  He is responsible for the leadership and strategic growth of the company and serves as the chairman for the HDR Board of Directors.  Keen became CEO in 2017 after previously serving as president and chief operating officer and engineering company president.  He has been instrumental in creating a company culture that cares deeply not just about its business, but about each other and the communities in which they live and work. 
A civil engineer by training, he has spent his 36-year career helping to develop and deliver some of the United States' most notable transportation infrastructure projects, including the Whittier Access project in Port William Sound, Alaska; the Legacy Parkway project in Salt Lake City, Utah; the Arthur Ravenel Jr. Bridge in Charleston, South Carolina; and the world-renowned Hoover Dam Bypass. 
Keen joined HDR in 1993 in its Alaska office, where he became involved with major public-private and design-build projects and developed a passion for the use of alternative contracting methods.  He was instrumental in establishing the firm's transportation alternative delivery practice, which has since been involved in many high-profile projects as as the Oregon Bridge Delivery Program and the I-69 P3 Project in Indiana.  In 2004, Keen was named the transportation business group director.  Under his leadership, the transportation practice grew its planning, program management, design-build and management consulting services to complement an already strong design practice.  He also oversaw a number of acquisitions across the United States, Canada and Australia, which expanded the firm's capabilities and helped double the company's size.
Keen is active in many professional and civic groups.  In 2012, he led the creation of the HDR Foundation, an employee-funded and administered charitable giving organization that benefits the communities where the firm's employees live and work by supporting activities that align with the company's values and areas of expertise.  Keen also contributes his time to many other organizations in the Omaha community including Nebraska Medicine's Board of Directors; the Greater Omaha Chamber of Commerce's Board of Directors including its Executive Committee and the Nebraska Military Support Committee; Bellevue University's Board of Directors; the Scott Scholars Advisory Council; and the STRATCOM Consultation Committee. He also serves on the Design Professionals Coalition of the American Council of Engineering Companies, which focuses on ensuring the industry is living up to its professional ethos.
Inducted: Sunday, May 12, 2019