PhD 1981 Mechanical Engineering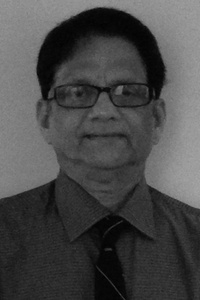 As an educator, researcher, and engineer, Dr. Sastry Munukutla's service to the theory and practice of engineering has been extraordinary. His work to develop innovative methods to improve power plant performance for the energy industry has made energy production more efficient and dependable.
Dr. Munukutla earned a PhD in mechanical engineering at the University of Iowa in 1981. He served on the faculty of the Department of Mechanical Engineering at Tennessee Tech University (TTU) from 1986 until his retirement in 2012. At TTU, he rose to the level of full professor in 1988 and served as director of TTU's Center for Energy Systems Research from 2000–2010. Among his many university-level awards and honors bestowed by TTU are the prestigious Caplenor Faculty Research Award, presented for significant contributions to the power industry; the Outstanding Faculty Award for Service; and the Outstanding Faculty Award for Teaching. Winning awards for all three aspects of university service is a hallmark of faculty excellence. He was named a Fellow of the American Society of Mechanical Engineers; and an Associate Fellow of the American Institute of Aeronautics and Astronautics. He won the Distinguished Alumnus Award of the Indian Institute of Science, Bangalore, the premier science and engineering research institution in India.
Dr. Munukutla conducted cutting-edge research in the areas of applied thermodynamics and energy conversion processes, as well as in high-energy lasers and wind tunnel measurements. As director of TTU's Center for Electric Power, Dr. Munukutla developed innovative methods to improve power plant performance for the electric utility industry. His work included a novel technique for online analysis of coal composition and the measurement of coal flow rate; the invention of a device to sample trace metals in coal ash; and the development a new technique that enables power companies to provide an accurate online cost analysis on a real-time basis. He has also organized and chaired numerous conferences, and he brought international recognition to TTU in his area of research.
As an educator, Dr. Munukutla taught courses in fluid thermal sciences. His students chose him for the Outstanding Faculty Award for Teaching, an endorsement of his caring, dedicated work in the classroom. As one student wrote, "You will learn, because he knows how to teach you." Another said, "He loves to teach, and he cares whether or not you learn in his class." His students report that Dr. Munukutla frequently went out of his way to help students experiencing difficulties. He was also quite supportive of TTU's Indian Student Association.
As a scholar, Dr. Munukutla published more than 130 peer-reviewed articles including in scholarly journals. He served as principal investigator on projects totaling nearly $3 million, with more than 30 sponsors, including international corporations.
Dr. Munukutla has successfully leveraged his research in the area of energy production to lead the Center for Electric Power at TTU. In this role, Dr. Munukutla conceived and realized innovative and directly applicable new solutions for the energy industry that are already in use around the world. His work has helped create a more energy efficient world.
Inducted: Thursday, May 14, 2015