Dr. Nelson L. de Sousa-Pinto
MS 1959 in Mechanics and Hydraulics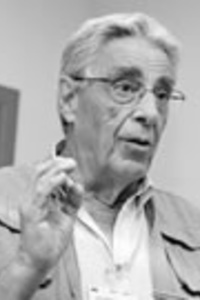 Dr. Nelson L. de Sousa-Pinto (MS 1959 in Mechanics and Hydraulics) has been Professor at the University of Parana, Brazil, since 1956. He currently serves as Chairman of the Advisory Council of CEHPAR, University of Parana, and is a consulting engineer in civil and hydraulic engineering, and waterpower. Dr. Pinto received a degree in civil engineering in 1954 from the University of Parana, an MS degree in Mechanics and Hydraulics from The University of Iowa in 1959, and his doctorate in hydraulics, also from the University of Parana, in 1961.
From 1955-1987, he was Engineer, Director, and Technical Consultant for COPEL – Companhia Paranaense de Energia Parana in Brazil. He also served as Technical Director, Central Electrica Capivari-Cachoeira S. A. Electrocap, and Director of the CEHPAR Research Center at the University of Parana.
A member of the National Academy of Engineering, Dr. Pinto has contributed significantly toward advancing the engineering profession on an international level. He directed engineering and construction of the Capivari-Cachoeira underground power plant for seven years, and directed hydraulic model studies of the Parana Uruguiai, and Sao Francisco Rivers in Brazil. His studies in the CEHPAR Laboratory contributed to the perfectioning of aeration design to prevent cavitation in high velocity shooting flows. As a member of the Board of Consultants, he has worked on more than 15 major projects in South America.
Dr. Pinto has served as an expert to the Iran-U. S. Claim Tribunal. He has been a member of the Editorial Board for the Journal of Hydraulic Research, IAHR, since 1991. In addition, he has written more than 40 main technical papers and co-authored four books.
Inducted: Friday, June 7, 2002