PhD 1956 in Mechanics and Hydraulics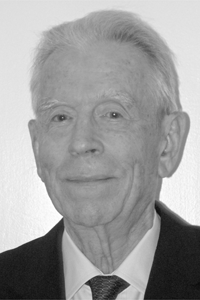 Dr. Michel Hug (PhD 1956 in Mechanics and Hydraulics) graduated from the first scientific and engineering French National School and then from the National School of Civil Engineering. After receiving his doctorate in mechanics and hydraulics from The University of Iowa in 1956, he joined the French National Electricity Board, where he conducted research into hydraulics and fluid mechanics at the Chatou Test Center. His scientific contribution was recognized by the Academy of Sciences, awarding him the 1964 Laboratories Prize.
In 1966, Dr. Hug was appointed EDF Regional Director of Planning and Construction at Marseilles, involved in hydroelectric projects on the Durance and Verdon Rivers, and various installations in the Southern Alps. Between 1969 and 1972, he was Deputy Director and then Director in charge of Development and Research. In 1972, he was appointed Chairman of the Planning Engineering and Construction Board, thus becoming head of the French Nuclear Program. During the oil crisis in 1973, Dr. Hug carried out an industrial mobilization and restructuring program that included a yearly budget of $4 billion, covering up to 250,000 workers and 3,000 firms in the nuclear field and in conventional and new sources of energy.
In 1982, Dr. Hug was appointed President of the French National Coal Board and Chairman of CdF Chimie, the associated chemical group. He defined new objectives and managed the technical, commercial, financial and social impact on this sector of the French Economy that new worldwide economic data associated with the long-term consequences of the oil crisis of 1973 had made inescapable. From 1992 to 2000, as Administrateur Délégué in charge of OPEN (Organization of Nuclear Energy Producers), he helped develop a new understanding of the relationships between European utilities faced with deregulation.
Dr. Hug was elected President of the International Association of Hydraulic Research from 1975 until 1979. He had various teaching assignments at the Ecole Polytechnique and the Ecole Nationale des Ponts et Chaussées and was President of the Higher National School of Electricity, Electronics, Data Processing and Hydraulics at Toulouse. He has served as a member of the Board of Directors of the Atomic Industrial Forum (AIF) and a foreign member of the National Academy of Engineering.
Inducted: Friday, June 7, 2002