Dr. Kristi Schmidt Bauerly
BSE 2002 Industrial Engineering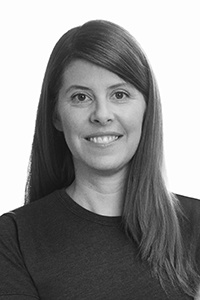 Dr. Kristi Schmidt Bauerly has been a human factors engineer with Apple for more than 14 years. Dr. Bauerly's impact can be felt by almost anyone who has held an Apple device. Her work has driven innovations in personal technology and transformed the ways in which we interact, express ourselves, and share our stories.
From her earliest days in the College, Dr. Bauerly demonstrated an enthusiasm for and eagerness to learn about human factors. She worked in Dr. John Lee's Cognitive Systems Laboratory as an undergraduate and later went on to complete an internship at the 3M Traffic Control Materials Laboratory and Battelle Human Factors Transportation Center. The University of Iowa honored her with a Hancher-Finkbine Medallion in 2002, and she would go on to receive numerous recognitions from the University of Michigan including the Distinguished Leadership Award and being named an Outstanding Graduate Student.
Dr. Bauerly remains a devoted member of our engineering family and has given back to the college by serving on our collegiate Advisory Board and on what was then the Mechanical and Industrial Engineering Advisory Board. Dr. Bauerly encourages current Iowa engineering students to approach engineering with an open mind and to remain curious about the ways in which engineering disciplines intersect. She serves as an invaluable resource to our students as they identify their own career paths in both academia and industry. Dr. Bauerly is an excellent ambassador for the Department of Industrial and Systems Engineering, our college, and the University of Iowa.
Inducted: Sunday, May 17, 2020