Professor of Fluid Mechanics and Director, Iowa Institute of Hydraulic Research (1966 – 1991)
Chair, Division of Energy Engineering, UI College of Engineering (1974 – 1976)
Carver Professor (1981 – 1987)
Hunter Rouse Professor of Hydraulics (1987 – 1991)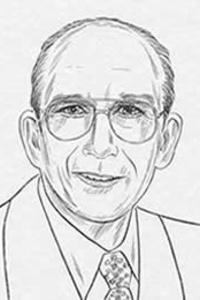 John F. Kennedy ("Jack") assumed Directorship of IIHR in 1966 as an energetic, quick-witted 32-year-old, and guided IIHR through 25 years of expansion until his untimely death in 1991. His mastery of the engineering sciences brought true innovation to solution of real-world problems. Kennedy understood the complementary roles of research and engineering practice. He led IIHR to the forefront of emerging environmental hydraulics efforts, and stimulated a diversity of other initiatives. His agile mind and passionate involvement ensured IIHR's firm leadership, international acclaim, and financial solvency during the late 20th century.
Inducted: Saturday, June 12, 2004