Instructor and Associate Professor of Core Literature and Technical Writing (1939 - 1942, 1946 - 1949, 1949 - 1965)
Professor of Engineering Communications (1968 – 1980)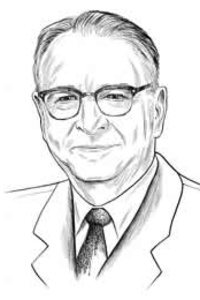 Tom Farrell earned the respect and admiration of students and colleagues for his devotion to the teaching of writing. Well known as tough and demanding, Farrell always strived for perfection in oral and written communication. His dedication to teaching engineering students to "write and speak effectively" crossed over into other collegiate responsibilities, such as handling public relations with alumni and industry, student placement, and advising student publications, The Transit and Hawkeye Engineer. His legacy became the foundation for today's Hanson Center for Technical Communication in the College -- where engineers-in-training learn to inform and persuade with the same commitment to excellence they devote to acquiring technical knowledge.
Inducted: Saturday, June 7, 2008