Research Engineer, Iowa Institute of Hydraulic Research (1954 – 1966)
Professor of Mechanics and Hydraulics (1954 – 1991)
UI Dean of Academic Affairs (1966 – 1971)
UI Vice President for Student Services (1971 – 1990)
Founder and Director of Opportunity at Iowa (1987 – 1990)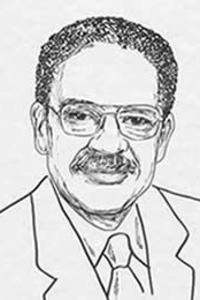 Phil Hubbard's life and career advanced the university for half a century. After receiving UI bachelor (Electrical Engineering), M.S. and Ph.D. (Mechanics and Hydraulics) degrees, he climbed academic ranks to professor. At IIHR, he developed innovative instrumentation and fluids data-acquisition techniques. Stepping into university administration, Hubbard led UI toward racial equality, thus reshaping its future. Praised for his mental agility and for being the first African-American in several administrative positions, including the first vice president in a Big Ten university, he is perhaps better remembered for his fine human qualities: his strong but kindly manner, and the patience, persistence, and leadership that he demonstrated as counsel to six UI presidents.
Inducted: Saturday, June 12, 2004