Director, Iowa Institute of Hydraulic Research (1936 – 1944)
Professor of Engineering (1936 – 1959)
Dean, College of Engineering (1936 – 1959)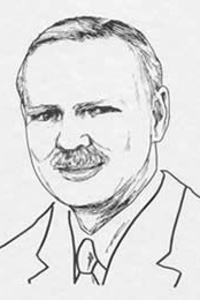 Frank Dawson served the college as masterful administrator and educator for over three decades. His expertise enabled him to expand UI engineering education in the humanities and actively engage faculty members in administrative decision-making. In response, faculty esprit de corps soared. His home became the center of college social interactions. Dawson's devotion to  engineering education led him into active leadership in many national engineering organizations. He also displayed expertise in water supply engineering, playing a crucial role in establishing a national plumbing code. Dawson's balanced mix of administrative, engineering, and interpersonal skills fixed him as one of our best loved and most respected deans.
Inducted: Saturday, June 12, 2004