Professor of Hydraulic Engineering (1920 – 1933)
Hydraulics Laboratory Director (1920 – 1931)
Founder and Director, Iowa Institute of Hydraulic Research (1931 – 1933)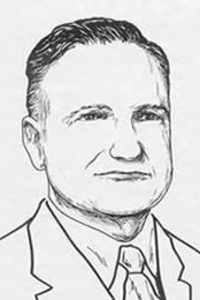 Floyd Nagler guided and promoted the Hydraulics Laboratory through its first 13 years, maintaining his seminal leadership until his untimely death at age 41. He launched multiple research projects within a few years of his arrival on campus in 1920. By establishing graduate programs in research, he helped transform the College into a research-oriented center for advanced study. Nagler also established the Iowa Institute of Hydraulic Research (now IIHR – Hydroscience & Engineering), built a sizeable IIHR staff, guided over 50 graduate students, and was responsible for construction of the current Hydraulics Laboratory. A man of amazing energy and enthusiasm, he laid a firm base for IIHR's future excellence, productivity, and international acclaim.
To read more about Floyd Nagler and a recently acquired set of journals that documents the early days of renowned UI Hydraulics Lab, go to https://now.uiowa.edu/2017/12/old-gold-newly-acquired-journal-documents-early-days-renowned-ui-hydraulics-lab.
Inducted: Saturday, June 12, 2004