BSEE 1949 With Distinction
MS 1950 in Electrical Engineering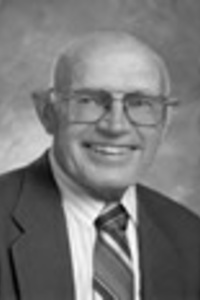 Donald E. Bently was Founder and former owner, Chief Executive Officer, and Chairman of the Board of Bently Nevada Corporation (BNC), a $200 million per year manufacturer of electronic systems for monitoring the mechanical condition of machinery. He is also the former President of Bently Rotor Dynamics Research Corporation (BRDRC), a subsidiary of Bently Nevada Corporation. Mr. Bently sold BNC and BRDRC (as a sale of assets) to GE in a friendly acquisition in January 2002. Mr. Bently was the owner of Bently Agro Dynamics--the agricultural business of the Bently Family Limited Partnership, of which he was General Partner. He was also owner and President of Gibson Tool & Supply Company, and served on the Board of Directors of Sierra Pacific Resources.
Mr. Bently pioneered the first commercially successful eddy current proximity transducer and introduced its use to measure machine vibration and thrust position protection systems in rotating machinery. His visionary work in this area gave rise to an entire industry surrounding the use of vibration instrumentation to protect and diagnose machinery. The company he built – Bently Nevada Corporation – enjoys recognition as the world leader in its field. Until his death in 2012, he was Chairman of the Board and Chief Executive Officer of his latest company, Bently Pressurized Bearing Company, which he owned with his son, Christopher Bently. GE did not purchase the bearing portion of the business, which he began many years ago. He was actively pioneering fully lubricated, pressurized bearing technology – technology destined to be as influential as the proximity probe in revolutionizing rotating machinery. This pressurized bearing was invented by Garrard in France in the early days of Napoleon, and while it is universally used on slow moving things such as telescopes and 100% of the time on reciprocating engines and diesel engines, it has never been employed on high-speed rotating machinery. Therefore, it represents a major paradigm shift, because usually a third bearing can be added to the machine to provide protection against machinery malfunction such as oil whip. This is another paradigm shift. Mr. Bently also made important agricultural achievements that contributed to the quality of the environment in the Carson Valley. This was accomplished through Bently Agrowdynamics, a business focused on environmentally sustainable agricultural practices and the innovative use of renewable resources. Key among these accomplishments has been reconstruction of the Mud Lake Dam, damaged during the 1994 Double Springs Flat earthquake. The 100-year-old structure's conversion from earthen filled to rock filled construction ensures a supply of irrigation water for Bently Agrowdynamics' South Ranch properties and is a greatly improved protection against earthquakes, for the surrounding community's land and home owners.
Mr. Bently was a globally recognized authority on rotor dynamics as well as vibration monitoring and diagnostics. He authored or co-authored more than 140 papers on these subjects and is the holder of two patents. In 2002 he published a book, Fundamentals of Rotating Machinery Diagnostics, which is being used as a textbook at major universities. He received the American Society of Mechanical Engineers (ASME) Frederick P. Smarro Award and R. Tom Sawyer Award, and the N. O. Mylestad Award from the Technical Committee on Vibration and Sound of the ASME Design Engineering Division. He was a Fellow and Life Member of the American Society of Mechanical Engineers. He also was recognized by The Institute of World Politics as a board member and ongoing benefactor. In 1992, he was made a foreign member of the St. Petersburg Academy of Engineering in Russia. In May 2002 the Board of Regents of the University and Community College System of Nevada recognized Mr. Bently as a 2002 Distinguished Nevadan; the award was received at the Commencement Ceremony of the University of Nevada-Reno.
Mr. Bently generously contributed to improve engineering studies at various universities across the United States, including a major gift to The University of Iowa College of Engineering to help with the environmental engineering research in Fairport, IA, along the Mississippi River for mussels and clams for Professor Jerald Schnoor.
Mr. Bently was the founder of the ISCORMA Conferences (International Symposium on Stability Control of Rotating Machinery) and he was Chairman of ISCORMA-1 at Lake Tahoe, CA; ISCORMA-2 in Gadansk, Poland; and ISCORMA-3 in Cleveland, OH.
Inducted: Saturday, June 9, 2001