BS 1947 in Civil Engineering, MS 1948, PhD 1964 in Mechanics and Hydraulics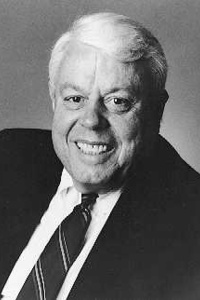 Dr. William M. Sangster had a long, distinguished career in engineering education, research, service, and in engineering-education administration until his death in 2000. Dr. Sangster attended the U.S. Naval Academy from 1944 to 1946. He also was a football letterman while at Iowa.
A native of Austin, Minnesota, Dr. Sangster served as Dean of the College of Engineering at Georgia's Institute of Technology form 1974 to 1991. He oversaw profound growth in the College -- from 4,500 students in 1974 to 8,000 students in 1991, while faculty and staff increased from 260 to 500. Money secured through grants and contracts for research increased ten-fold under his leadership. In 1991, he was named Director of International Programs at Georgia Tech, for which he is uniquely qualified because of his association with universities in Korea, the Middle East, South Africa, and India; and because of his work in raising the level of engineering education at institutions involved with the Pan-American Union of Engineering Associations based in Venezuela.
Dr. Sangster served as President of the American Society of Civil Engineers, the major professional organization for civil engineers in the U.S., with a current membership of more than 120,000. In addition, over the years he has served as director and chairman of 10 national committees of ASCE, and is currently a Fellow of the Society.
Furthermore, Dr. Sangster was Co-founder of the National Consortium for Graduate Degrees for Minorities in Engineering and Science, Inc. In recognition of his efforts in minority education, the National Action Council for Minorities in Engineering presented him with the Reginald H. Jones Distinguished Service Award, the highest honor conferred in minority engineering education. He also achieved an outstanding record in the recruitment, support, retention, and graduation of minority and female students at Georgia Tech. The Accreditation Board for Engineering and Technology (ABET) bestowed on him the Linton E. Grinter Distinguished Service Award, which is given annually to an individual who has made outstanding contributions to engineering, engineering technology, and engineering-related education through work with ABET. He is currently on the Board of Directors for ABET.
Inducted: Saturday, February 15, 1997