BE 1924, EE 1932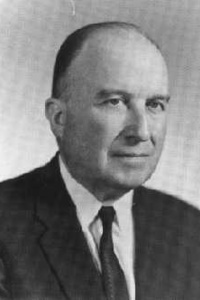 Dr. Harry F. Olson was awarded posthumously the Distinguished Engineering Alumni Award (1996) and the UI Alumni Association's Distinguished Achievement Award (1982). He died April 1, 1982, in Princeton, N.J., only days before notification of his Achievement Award reached him. Dr. Olson's professional career began in 1928 with the Photophone Division of Radio Corporation of America in New York City. He later worked with the RCA Victor Division in Camden, N.J., and, finally, with the RCA Laboratories in Princeton, N.J., as Director of Acoustic Research and, in 1967 as Staff Vice President. He retired from RCA in 1967, but was retained by the company as a consultant for several years. After his retirement, Dr. Olson continued to add to his impressive list of publications which includes numerous technical papers as well as seven books.
One of Dr. Olson's early projects was the velocity microphone, the first microphone with uniform directivity, which became the standard for broadcasting use. He later pioneered several other directional types of microphones, including the unidirectional types used in television broadcasting and sound motion picture filming.
During World War II, he developed underwater sound equipment, anti-noise microphones, and high powered announcing systems. He also made pioneering contributions to loudspeaker development, including the development and improvement of phonographic pickup and disc recording equipment, sound motion picture and development of electronic noise reducers, stereophonic sound system, magnetic tape recorders for sound and television, the electronic music synthesizer, and an experimental voice-activated phonetic typewriter.
Dr. Olson has more than 100 U.S. patents on devices and systems in the acoustical field and was the author of more than 130 articles and professional papers. His books, Acoustical Engineering and Dynamical analogies, have long been standard reference texts around the world. Several of his inventions are in the collection of the Smithsonian Institution. He was elected to the National Academy of Sciences in 1959.
Inducted: Saturday, February 24, 1996