MS 1956 in Mechanics and Hydraulics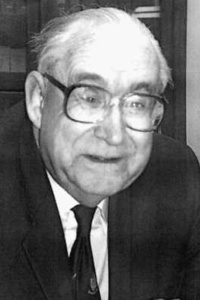 James Clement Dooge was an Irish politician, engineer and academic. Dooge lived a multifaceted existence with his roles including a period as Irish Minister for Foreign Affairs, Chairman of the report which led to the Single European Market, Chairman of the Irish Senate, Professor of Engineering at University College Cork and University College Dublin, President of the International Council for Science, President of the Royal Irish Academy and Chairman of the Irish Film Board.
Dooge was born in Birkenhead, England in 1922. He was educated in Liverpool, the Christian Brothers in Dún Laoghaire, University College Dublin and The University of Iowa. In 1942 he obtained a job with the Office of Public Works and in 1946 he began working with the Electricity Supply Board. Between 1954 and 1956 he was research associate at the Department of Civil Engineering at The University of Iowa. In 1958 Dooge became Professor of Civil Engineering at University College Cork. In 1970 he became a Professor at University College Dublin. Between 1984 and 1987, Dooge worked at the Department of Engineering Hydrology at University College Galway. Since 1988 and before his death in August 2010, he worked at University College Dublin at the Centre for Water Resources Research.
As well as having a distinguished career as an academic, Dooge led a very active political life. He was a member of Dublin City Council. From 1961 to 1977, Dooge was a senator, working during the late 1970s in reorganizing the Fine Gael party. In 1981 he was appointed as Minister for Foreign Affairs. He had a primary role in the intergovernmental building of a report into improving co-operation of the European Economic Council in 1984. This work (The Dooge Report) along with his time as Foreign Affairs Minister is credited as helping form the basis of the Single European Act.
Dooge received awards for his work in the field of engineering and international affairs. In 1986 he was awarded with the William Bowie Medal from by the American Geophysical Union for "outstanding contribution to fundamental geophysics and for unselfish cooperation in research." In 2000, he was made an International Fellow at the Royal Academy of Engineering as an "outstanding" figure in the science of hydrology. He has also been awarded the Prince Philip Medal by the Duke of Edinburgh. In 2005, the Royal Irish Academy awarded him their gold medal, presented by President Mary McAleese. He was hailed as one of the founding fathers of modern hydrology. The World Meteorological Organization awarded him their highest prize in 2001, the IMO Prize.
Inducted: Saturday, February 27, 1999