BS 1958, MS 1963 in Electrical Engineering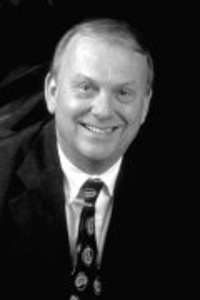 David R. Buchanan has an entrepreneurial spirit and common sense management style have helped him achieve astounding financial and technological success. He has held a variety of technical and managerial posts including General Dynamics Corporation in San Diego, where he was an engineer on the Atlas Missile Project and in the autopilot design group. Other projects included Bendix Project Mercury, Bermuda and Sperry Flight Systems and General Electric Computer Department, Phoenix.
Mr. Buchanan then entered the entrepreneurial phase of his career, founding and investing in young high-technology companies and building them into successful enterprises. When General Electric moved its Computer Peripherals Division to Oklahoma City, Mr. Buchanan decided to remain in Phoenix. He hired GE's four best engineers and started Peripherals, Inc., which designed and produced disc drive testing equipment. Within three years, the company expanded and was sold to Wabash Magnetics, Inc. for $5.4 million. In 1971, he founded Talos Systems, Inc. Within 10 years, the company was a leader in its field and became part of Sauder's Associated on the New York Stock Exchange. Today, the business is owned by Lockheed Martin , and is the largest supplier of digitizers in the world.
Highly successful businesses that he has developed have helped the U.S. continue to be a player in the international computer and electronic technology, including Three-Five Systems, Inc., a New York Stock Exchange Company, from which he recently retired as chairman.  Mr. Buchanan came out of retirement in 1985 to rescue the nearly bankrupt manufacturer of advanced computer chips and built Three-Five Systems into a leading supplier of customized controls and electronic displays (particularly liquid crystal display) for original equipment manufacturers. Three-Five Systems was nominated as the top stock performer on Wall Street in 1993. The company has grown along with the expanding industries it serves-cellular communications, medical electronics, and office automation-and is well positioned to serve the dynamic custom display module market In crystal display glass manufacturing facilities in North America. It also has production facilities in the Philippines and China.
Mr. Buchanan lives and works in the Phoenix area, but the Belmond, Iowa, native continues to supports the UI College of Engineering. In 1980, he established the David R. Buchanan Scholarship fund in electrical engineering. In 1996, he received the UI Distinguished Alumni Award for Achievement. He also is a member of the Institute of Electrical and Electronics Engineers, Sipma Phi Epsilon, the Phoenix Executives Club, and the Arizona and White Mountain Country Club.
Inducted: Saturday, February 24, 1996