BS 1926 in General Engineering, MS 1930 in Hydraulic Engineering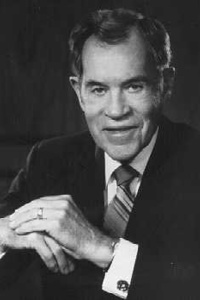 C. Maxwell Stanley came to Muscatine, Iowa, in 1932 as half owner of Young & Stanley, Inc., a two-man consulting firm. By 1939 the firm had grown to 70 members, and its name was changed to Stanley Engineering Company when C.M. Stanley acquired Mr. Young's interest in the firm. In the late 1950's, Mr. Stanley pioneered an expansion into the international market. He directed the development of the firm to a 700-member international multidisciplinary consulting organization serving governmental, industrial, and electric utility clients throughout the USA and in more than 30 foreign countries, making it the largest consulting firm in Iowa. Professionally registered in 20 states, he stressed the importance of striving for high standards of excellence in performance and in relations with employees, clients, and the public. Enlightened personnel policies, including a company-wide profit sharing program, flex-time work schedules, and ownership of the firm by its members, has marked the firm's development. Innovative organization structures and operational procedures have enabled Stanley to efficiently and effectively serve its clients. In addition, he was Co-founder of HNI Corporation (formerly HON INDUSTRIES, Inc.) which is an office equipment manufacturing industry.
Mr. Stanley was the recipient of numerous awards and honors for his achievements in the engineering profession, community affairs, and the advancement of world peace. He received the Alfred Novel Prize, the Collingwood Prize from the ASCE, and an Iowa Engineering Society award for technical papers on significant engineering design topics. In addition, his book, The Consulting Engineer, is the only definitive work on the professional aspects of private consulting practice. In 1983, he received the Past Presidents Award from The American Consulting Engineers Council, the nation's largest organization of engineers engaged in the independent practice of consulting engineering. He is recognized for his integrity and principles both as an engineer and as a concerned citizen, and for his significant role in the growth of the consulting engineering profession in the U.S. and throughout the world.
Mr. Stanley also provided leadership in a number of engineering societies. He was a Fellow of the American Society of Civil Engineers, the Institute of Electrical and Electronics Engineers, the American Society of Mechanical Engineers, and teh American Consulting Engineers Counsil. He was a member of the National Society of Professional Engineers, the Iowa Engineering Society (Honorary Member and Past President), the Illinois Society of Professional Engineers, and the Consulting Engineers Council/Iowa. He was the first Chairman of the UI Foundation's President's Club and was a member of the Foundation Board for nine years, including four as Chairman. He was one of the College of Engineering's most outstanding graduates and extensively supported The University of Iowa, including the donation of over $2 million and a major art collection to the UI Foundation after his death in 1984.
Inducted: Saturday, February 24, 1996