BS 1946 in Electrical Engineering
MS 1949
PhD 1954 in Mechanics and Hydraulics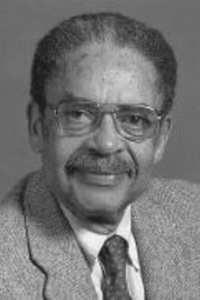 Prior to his death in January 2002, Dr. Philip G. Hubbard was one of the most distinguished and admired administrators in the history of the University of Iowa. Having been a part of the university for 55 years, he witnessed nearly one third of the UI's life. He came to the UI in 1940, earning a Bachelor's of Science degree, his Master's, and doctorate degrees. His entire career was spent on the Iowa campus, serving as a Professor, Dean of Academic Affairs, and Vice President for Student Services. For students, he was an advisor, advocate, and father figure. For faculty and staff, he was a champion of human rights. For administrators, he was an exemplar of humane and resourceful leadership. In 1971, Dr. Hubbard was named Vice President for Student Services, becoming the first African-American Vice President at a Big Ten university. He worked to open housing, jobs, and educational opportunities to minorities through the development of the Opportunity at Iowa program, the University's initiative to recruit and retain minority students and faculty. As professor emeritus of mechanical engineering, he remained involved in the College of Engineering and Opportunity at Iowa. In 1996, he wrote a book, titled New Dawn: A 150-year look at Human rights at The University of Iowa.
Dr. Hubbard earned distinction for his accomplishments as a research engineer and professor of engineering, technological innovator, university administrator, and defender of student interests. The dedication of Hubbard Park, located just south of the Iowa Memorial Union, honored his over 50 years of study, teaching, research, and administration at the UI with the limestone sign bearing the name of the park being one of the 1876 original slabs removed from around the Old Capitol in 1973.
Dr. Hubbard was a long-time member of the President's Club and a very generous contributor to a wide range of programs and projects. He was an advisor to six UI presidents and served on and chaired countless campus committees, university task forces, and state and national advisory groups. In addition, he served on many campaign committees for the UI Foundation and was director for the Institute for Learning and Development, which is a nonprofit organization that helps cities establish education, health, and job training programs. Dr. Hubbard was a member of the College of Engineering Development Council and served on the College's Engineering Building Campaign Steering Committee.
Inducted: Saturday, February 24, 1996