MS 1955 in Mechanics and Hydraulics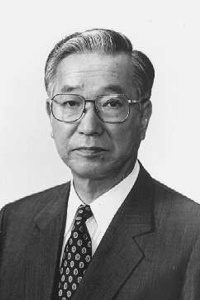 Dr. Mikio Arie received his Bachelor of Engineering and Doctor of Engineering from Hokkaido University and Kyushu University, respectively, two of Japan's seven Imperial Universities. While he was an Associate Professor on the Engineering Faculty at Hokkaido University, he received a Fulbright Fellowship to pursue advanced study in the United States. Dr. Arie spent two years at the UI and in 1955 earned a Master of Science degree in Hydraulics. He is remembered at the Iowa Institute of Hydraulic Research as one of its most energetic students and ingenious experimentalists. His M.S. thesis was published in Journal of Fluid Mechanics, the world's most prestigious fluids journal. He subsequently completed his doctorate at Kyushu University in Japan.
Dr. Arie's professional career was spent almost exclusively at Hokkaido University. There he advanced steadily through the professional ranks, serving as a member of the University Senate, Dean of Students, Dean of Engineering, and from 1981-1987, as President of Hokkaido University He served as President of the National Center for University Entrance Examination for four years. In 1992, he returned to Sapporo and was named President of Hokkaido Institute of Technology, serving until March 1998. He was the Chairman of the Board of Trustees of Hokkaido Shoshi Gakuen. He also played a key role in the development of engineering education and in the economic development in his country.
Throughout his career and until his death in 2009, he remained very active in government affairs related to technology, and served as a member of the Japan Science Council, the Senate of the National Research Institute for Polar Regions, and Vice President of the Japan Society of Mechanical Engineers. Above all, he was heavily involved in international education activities, through his own efforts to promote exchange of students between the U.S. and Japan, and his membership on several boards of organizations which promote study abroad.
Dr. Arie's interests went well beyond purely academic and technical matters such as heading the design team for the ski-jump facility for the 1972 Winter Olympic Games, which were held in Sapporo, Japan. He also continued to keep his engineering and other technical skills operative by the large number of first-rate technical papers he produced, despite his main responsibilities as president of Hokkaido University. Throughout his long and distinguished career, Dr. Arie remained extremely loyal to the University of Iowa. He never failed to include a visit here, to the UI, in visits to the country. He had a remarkably diverse and productive career at the highest levels of the Japanese educational establishment and was instrumental in establishing several cooperative efforts between Hokkaido University and the University of Iowa.
Inducted: Saturday, February 24, 1996