BS 1937 in Chemical Engineering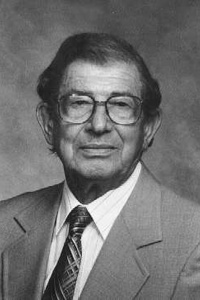 Frank Chrencik, originally an Osage, Iowa farm boy, completed the Advanced Management Program of the Harvard Graduate School of Business at Cambridge, Massachusetts. He began his career with the General Chemical Division of Allied Chemical & Dye Corporation by assuming chemical production and plant construction duties at various locations. While serving active duty as a reserve officer in the Chemical Corps of the Army, he spent time at the Army Chemical Center in Maryland and eventually the Rocky Mountain Arsenal in Colorado as Chief of Operations. He separated from the military service with rank of Lt. Colonel, after being a member of General MacArthur's Armed Forces of the Western Pacific. He resumed his business career by joining Diamond Alkali Company in 1946 and was placed in charge of a chemical plant leased from the Government at Army Chemical Center in Maryland. Shortly thereafter, he was transferred to Diamond's newly established chemical complex on the Houston ship channel in Texas. In 1956 he was promoted from the position of General Manager of Diamond's large new Texas chemical complex to General Manager of the Electro Chemicals Division, and eventually was elected Vice President of the company.
In 1969, Mr. Chrencik became President and Chief Executive Officer of Terra Chemicals International, Inc. of Sioux City, Iowa. He ended his association of 26 years with the Diamond Shamrock Corporation and joined Vulcan Materials Company in 1972, where he became a director, a member of the Executive Committee and a Corporate Executive Vice President and Chief Executive for the management of Vulcan's chemicals and secondary metals business segments. He was Vice Chairman of the Board of Vulcan Materials Company up until his retirement in 1979, serving as Consultant and Emeritus Director until his death in February 2006.
He was a member of the UI Presidents Club, and a member of the International Advisory Committee for the publication of the Encyclopedia of Chemical Processing and Design. He served on the Editorial Advisory Committee of Chemical Week Magazine and the Advisory Council of the Chemical Corps of the Army. He received the Alabama Outstanding Chemical Engineering Award in 1983 from the American Institute of Chemical Engineers. He was involved in several professional organizations on a national level, as well as serving on the editorial board of two professional journals. He also supported Rotary and Kiwanis clubs, was involved in health fund drives and helped form chapters of the National Hemophilia Foundation. He actively supported the UI Alumni Association and the UI Foundation, and was awarded the UI Distinguished Alumni Award for Achievement.
Inducted: Saturday, February 24, 1996