Friday, September 16, 2016
Fatima Toor, assistant professor of electrical and computer engineering, has been named to the 2016 Forty Under 40 Class, sponsored by the Corridor Business Journal
The journal will spotlight 40 Corridor leaders under the age of 40, including Toor, in its October 24 issue and at an October 20 awards dinner.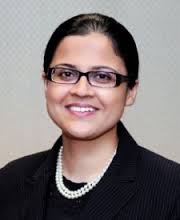 Forty Under 40 honorees consist of men and women who have made a significant impact in their businesses and communities early in their careers. Each year, a panel of the previous year's winners chooses the honorees. This year, nominees had to be less than 40 years old as of October 19 to qualify.

The 12th annual Forty Under 40 awards banquet will be held Thursday, October 20, at the Cedar Rapids, IA, Marriott.
Toor conceived the idea of a silicon-nanowire-array optoelectronic cartridge for cancer biomarker detection, and assembled a small group of principals to form a company called Advanced Silicon Group in hopes of someday manufacturing and marketing the product. Earlier this year, the company was named a semi-finalist in the SPIE Startup Challenge, a prestigious tech startup contest, at the 2016 Photonics West Conference.
In November, Toor was a finalist for a Technology Association of Iowa Rising Star Award. Nominated by Jennifer Ott, John Pappajohn Entrepreneurial Center training and outreach liaison, she noted "Dr. Toor encourages diversity of all kinds in her research group as a critical component of achieving excellence and creativity in research."
The Corridor Media Group Inc. (CMG) is a media company based in North Liberty, IA, and the publisher of the Corridor Business Journal (CBJ), a weekly source of comprehensive business coverage for Iowa's Creative Corridor. CMG also provides custom publishing, digital news, business data, and hosts the region's most popular corporate and awards-based events. For more information or to subscribe, visit www.corridorbusiness.com.