Thursday, February 26, 2015
Engineering students Ana Hertz and Aaron Goddard have just completed training to join Epicenter's University Innovation Fellows, a national program that empowers student leaders to increase campus engagement with entrepreneurship, innovation, creativity, design thinking and venture creation.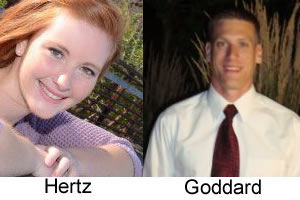 They are among 123 new Fellows join the current network, for a total number of 291 Fellows from 114 schools.
The program is run by Epicenter, which is funded by the National Science Foundation and directed by Stanford University and VentureWell. Please see the attached release for more details about the program, the students and their activities.
Hertz and Goddard are supported by faculty sponsors Sarah Vigmostad, assistant professor of biomedical engineering, and Lynn Allendorf,
acting director, John Pappajohn Entrepreneurial Center, and director, Bedell Entrepreneurship Learning Laboratory,
to create new experiences for students at your school.