Tuesday, November 11, 2014
The latest digital issue of Iowa Engineer Magazine is now available at http://www.pageturnpro.com/University-of-Iowa-College-of-Engineering/61972-Iowa-Engineer,-2014-No-2/index.html#1.

Because mentoring by alumni and friends, faculty and staff members, and fellow students is core to the college's success, this Iowa Engineer magazine issue focuses on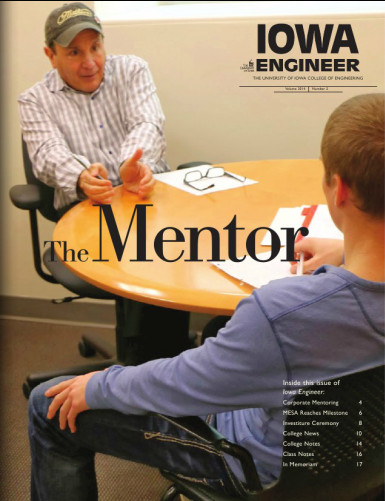 the topic.  The magazine features:
An alumni mentoring program for chemical and biochemical engineering students, established by Thomas Marriott (BSChE 1968)
Corporate mentors Bob Chiusano and Dan Mineck who utilize their corporate experience to mentor engineering students in the classroom
The MESA tutoring program, a collaborative program with the Iowa City Community School District, that provides opportunities for engineering students to mentor students in grades 5-12
The issue also has stories on:
Philanthropists Sharon K. Tinker and Jim Ashton who have generously established endowed professorships in the College allowing professors C. Allan Guymon, Fred Stern and William Eichinger the opportunity to mentor student researchers in their labs
New faculty members in the College of Engineering
Recognition of outstanding faculty and staff
It also has traditional favorite features, such as College Briefs, Class Notes and In Memoriam.
The magazine is sent electronically to Engineering alumni, friends, corporate partners, prospective students and parents, employers, and members of the general public.