FIRST Tech Challenge: Iowa Championship
Information about the 2023 FTC Iowa Championship:
Friday, March 3, 2023 & Saturday, March 4, 2023
Xtream Arena & GreenState Family FieldHouse, Coralville
More details to come
----
Photos can be accessed using these links:
Teams are able to use any photo in these albums, however, kindly give photo credit to the appropriate photographer. 
---
 Information about the FTC Iowa Championship, Presented by Collins Aerospace.
This event is a multi-day tournament. 
Location: Xtream Arena, 200 E. 9th Street, Coralville, Iowa 52241

Team entrance: Loading dock of Xtream Arena, accessible via Quarry Road.
Guest entrance: Main doors at intersection of E. 2nd Ave & E. 9th Street.
Parking Map

Bus Parking will be in the chip seal lot (very limited). 

Date: Friday, Feb. 18 (team check-in, inspections & judging) & Saturday, Feb. 19 (matches & ceremonies), 2022
Cost for spectators: Free

Spectators will only be able to access the seating area and concourse. Spectators, including parents, will not be able to go into the pits or near the competition fields.
Credentials will need to be displayed to access the floor.

Other information about the Arena:

Outside food and drink is not allowed in the Arena, this applies to the teams and students.
Attendees and spectators can bring in empty reusable water bottles and refill them in the arena.
Concessions will be open throughout the concourse.
Teams will need to unload in the loading dock.
Competing teams need to prepare for an 8'x8' pit area.
Teams will receive 10 student and 2 coach/mentor credentials. People without credentials will not be allowed onto the competition floor or the pit area.
----
What's the size of the FTC Iowa Championship?

The size of the Iowa Championship will be 48 teams.

What's the agenda of the FTC Iowa Championship?
Will teams have scheduled inspection and judging times?

Yes. With this large of a tournament, we needed to schedule judging interview times.
Judging will be taking place in the 2nd floor conference rooms at the Hyatt Regency Hotel, 300 E. 9th Street, Coralville. Teams need to prepare to transport the robots to the judging interview.

Who can compete?

Teams qualified through the league tournaments and the Super Qualifier events. Invited teams were sent a registration link and all teams have confirmed their participation.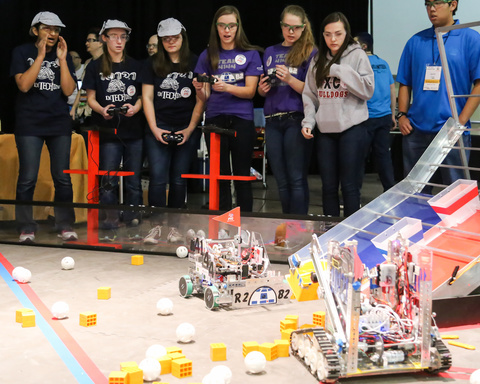 Where can I find a list of teams who will be competing at the FTC Iowa Championship?

List of teams invited to compete

Will the FTC Iowa Championship be live streamed?

Our intentions are to live stream the event. However, it is not a top priority and having a successful event is the main focus.

Gold division live stream
Black division live stream

How many teams will be advancing from the Iowa Championship?

At this time, Iowa has received two allocations to the World Championship.

How many practice fields will there be?

The plan is to have four practice fields. However, we need teams to supply the practice fields, including the perimeter, tiles and field elements. If you're able to supply parts or an entire practice field, please let us know on this spreadsheet.

Other Information

As the event gets closer, we'll be uploading documentation to this Google Drive. Please review all documents in the folder.
At this time, pits will include a table and two chairs.  Teams should plan to bring any additional chairs, if needed.
FTC Iowa Championship Schedule
Friday - pits open, hardware inspections, field inspections and judging.

All teams must check in between 12:00pm-12:45pm.

Saturday - driver's/coaches meeting, opening ceremony, qualification matches, alliance selection, elimination matches, and closing/award ceremony.

Teams will need to plan to arrive between 7:00am-7:45am.

Overall event agenda for teams